I love homemade pudding. It has always been one of my favorite desserts.
I make homemade chocolate pudding and homemade lemon pudding often, but homemade butterscotch pudding is one pudding that I have never been able to get quite right. It just wasn't butterscotch enough.
They were good, but they were more of an old fashioned flavored butterscotch. Yes, I will admit that what I was looking for was the "fake" butterscotch flavor that so many of us love.
I wanted it to taste like the kind of pudding you get in a box. Well, maybe not exactly like the pudding you get in a box, because I don't like pudding mixes, but I wanted something with the same basic butterscotch flavor.
After years of trying I finally got it.
This homemade version of butterscotch pudding is so good. It actually tastes like butterscotch.
A few weeks ago when I posted on my Facebook page that I finally came up with a homemade butterscotch pudding that actually tasted like butterscotch, several of you asked for the recipe, so here it is. I am sorry it took so long to get it posted.
I hope you enjoy it as much as I do!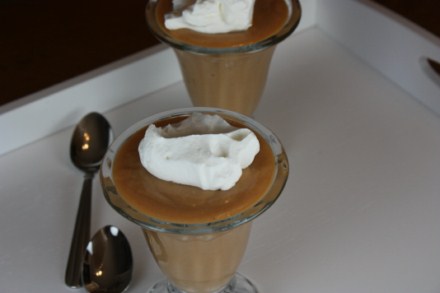 Homemade Butterscotch Pudding
1 cup brown sugar
3 tablespoons cornstarch
2 eggs
1/8 teaspoon salt
2 cups milk
¾ cup butterscotch chips (If you are gluten free be sure to check the ingredients not all are gf)
In a pan combine sugar and cornstarch. Slowly whisk in milk and cook over medium heat until thickened slightly.
In a small bowl whisk eggs and add about ½ cup of hot milk, cornstarch, mixture. Whisk together well. You are tempering the eggs here.
Add egg mixture back into the remaining milk mixture. Add salt and continue cooking over medium heat until thickened.
Remove from heat and stir in butterscotch chips and until chips are melted.
Serve warm or cold.