We like pancakes in our house. We usually eat them at least once a week. I like variety, so I have several pancake recipes that I make.
I found this recipe several years ago. Occasionally I will make up a big batch of this mix to have on hand. It makes making pancakes so much quicker and easier. I can have pancakes in no time when I have a mix like this one hand.
Having mixes like this on hand also is much cheaper and healthier than store bought ones.
I like this recipe because the oatmeal in it makes it a little heartier but you grind the oatmeal up so it helps the texture. The directions say to use a food processor but I think you could easily grind the oatmeal in a blender.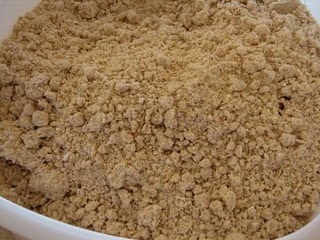 Oatmeal Pancake Mix
3 cups white whole wheat flour or whole wheat pastry flour
2 cup Unbleached All-Purpose Flour
3 1/2 cups old-fashioned or rolled oats
3 tablespoons sugar
3 tablespoons baking powder
1 tablespoon salt
1 tablespoon baking soda
1 cup vegetable oil
Grind the oats in a food processor until they're chopped fine, but not a powder. Put the flour, oats, and all other dry ingredients into a mixer with a paddle. Mix on slow speed, and drizzle the vegetable oil into the bowl slowly while the mixer is running. Store in an airtight container for up to two weeks at room temperature, or indefinitely in the refrigerator or freezer.
This is how I store it.
To make pancakes:
Whisk together 1 cup of mix, 1 cup of buttermilk, and 1 large egg. Don't worry if it seems thin at first: the oats will soak up the milk, and the mix will thicken a bit as it stands. Let the batter stand for at least 20 minutes before cooking. Heat a lightly greased griddle to 350°F. Drop the batter onto it in 1/4-cupfuls (a jumbo cookie scoop works well here). When the edges look dry and bubbles come to the surface without breaking (after about 2 minutes, if your griddle is the correct temperature), turn the pancake over to finish cooking on the second side, which will take about 2 minutes. Serve and enjoy!
This recipe adapted from King Arther All Purpose Baking Book.
For more frugal ideas see Biblicalwomanhood and Grocery Cart Challenge Recipe Swap.