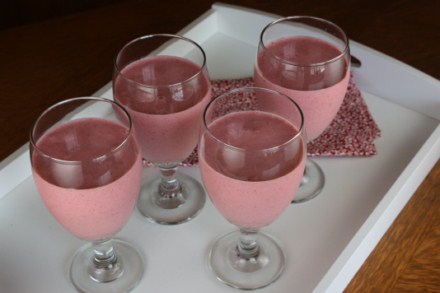 It is pretty obvious by our weekly menu plan that we love smoothies. We usually have them several times a week for breakfast and lunch.
I love to make different versions of smoothies and I almost always have freezer smoothies ready for times when we need them, but I will admit that I have bought those convenience packs of smoothie mixes that you find at the grocery store.
You know the ones that I talking about don't you?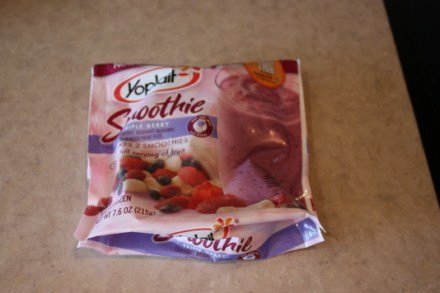 Yes, I will admit I have bought those several times.
When I buy them it is usually when I have found them on sale with a coupon, but honestly even at a really good price it seemed like a bit of a waste when you think about what they are.
They are simply frozen fruit and frozen chunks of yogurt. And I quickly realized I could easily do this at home.
I mean who can't freeze yogurt and fruit. I knew I could figure this one out.
I started by freezing yogurt in ice cube trays, which was very easy. This does make the chunks of yogurt a little bigger than the kind in the package, but you can also use smaller ice cube trays.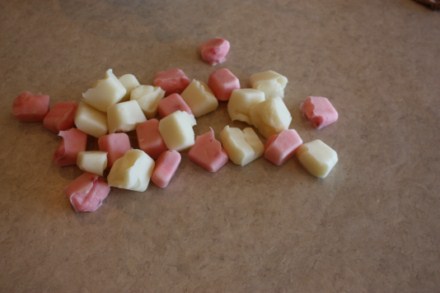 Once the yogurt was frozen I simply popped it out of the trays. I like to use a mix of vanilla and strawberry yogurt, but you can use your favorite kind.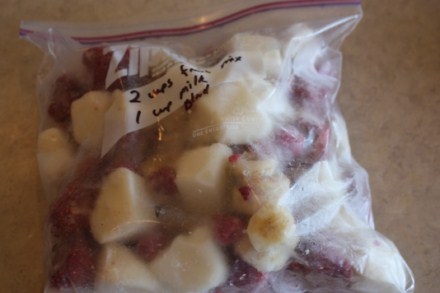 I put them in a ziplock bag and mix in some frozen fruit. I like to freeze bananas and other fruit on cookie sheets until solid and then add them to the bag. I also use frozen strawberries, raspberries, etc. Really whatever I have.
The ratio we like best is about 1/3 yogurt and 2/3 fruit, but you can very that depending on how much you like. It does not have to be exact.
Place the bag in the freezer and when you are ready to make a smoothie place about 2 cups of fruit yogurt mixture into a blender and add in about 1 1/2 cups milk. Blend until smooth, adding more milk if desired.
This makes 2 smoothies.
You will notice the bag in the picture says 2 cups fruit 1 cup milk. We have actually decided that we like about 1 1/2 cups milk. We like the texture a little better and I find they blend better that way. So, ignore the picture and use 1 1/2 cups milk or adjust for the consistency that you like.
I am curious how many of you have bought those premade smoothie mixes? I admitted I did, so make me feel better and tell me you have too……..
And has anyone else made their own? If so I would love to hear your tips and ideas?