Skip those smoothie mixes in the freezer section and make your own homemade freezer smoothie mix at home.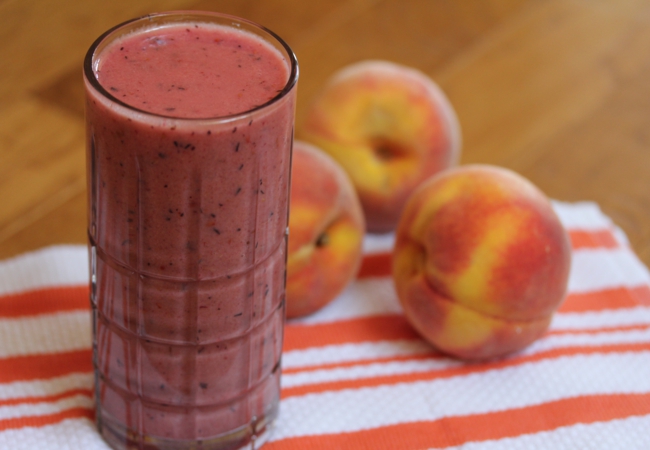 It is pretty obvious by our weekly menu plan that we love smoothies. We usually have them several times a week for breakfast and lunch.
I love to make different versions of smoothies and I almost always have freezer smoothies ready for times when we need them.
I will admit thought that I have bought those convenience packs of smoothie mixes that you find at the grocery store.
You know the ones that am I talking about don't you?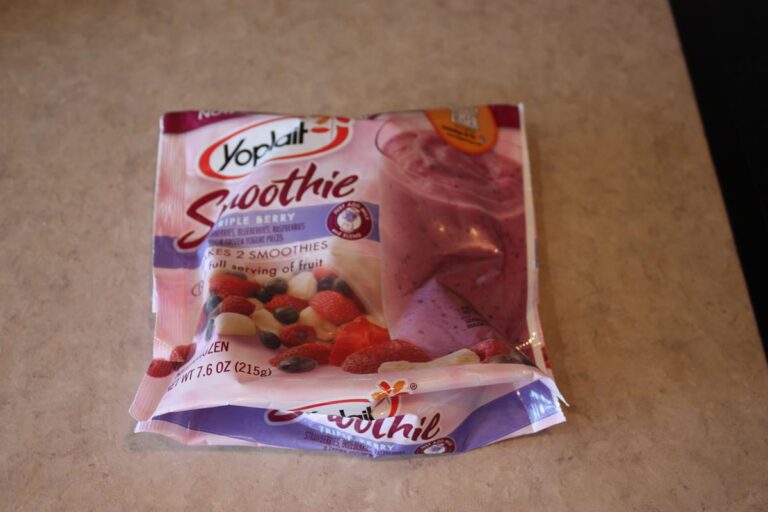 Yes, I will admit I have bought those several times.
When I buy them it is usually when I have found them on sale but honestly, even at a really good price, it seemed like a bit of a waste when you think about what they are.
They are simply frozen fruit and frozen chunks of yogurt. And I quickly realized I could easily do this at home.
I mean who can't freeze yogurt and fruit. I knew I could figure this one out.
How To Make Homemade Smoothie Mix
I started by freezing yogurt in ice cube trays, which was very easy. This does make the chunks of yogurt a little bigger than the kind in the package, but you can also use smaller ice cube trays.
You can also place blobs of yogurt on a try or cookie sheet and freeze them that way. Either way works.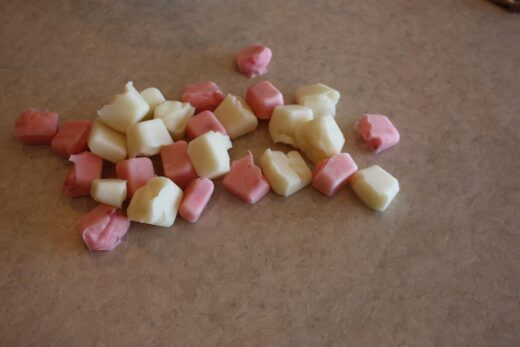 Once the yogurt was frozen I simply popped it out of the trays. I like to use a mix of vanilla and strawberry yogurt, but you can use your favorite kind.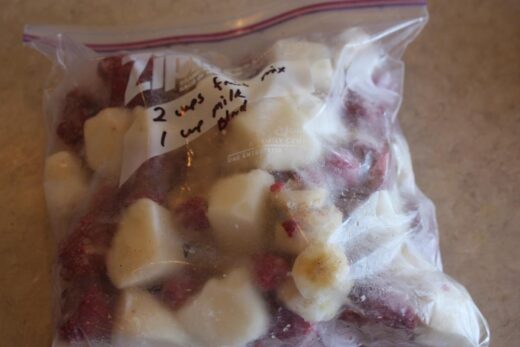 I put them in a ziplock bag and mix in some frozen fruit. I like to freeze bananas and other fruit on cookie sheets until solid and then add them to the bag. I also use frozen strawberries, raspberries, etc. Really whatever I have.
The ratio we like best is about 1/3 yogurt and 2/3 fruit, but you can vary that depending on how much you like. It does not have to be exact.
Place the bag in the freezer and when you are ready to make a smoothie place about 2 cups of fruit yogurt mixture into a blender and add in about 1 1/2 cups milk. Blend until smooth, adding more milk if desired.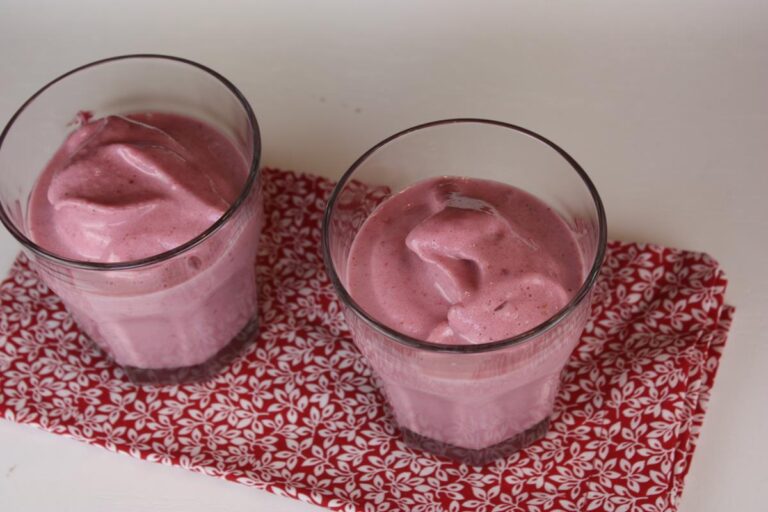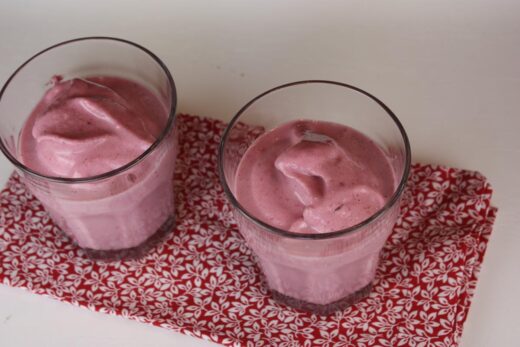 You will notice the bag in the picture says 2 cups fruit 1 cup milk. We have actually decided that we like about 1 1/2 cups of milk. We like the texture a little better and I find they blend better that way. So, ignore the picture and use 1 1/2 cups milk or adjust for the consistency that you like.
Smoothie Ingredients
Yield: 10 servings
Homemade Freezer Smoothie Mix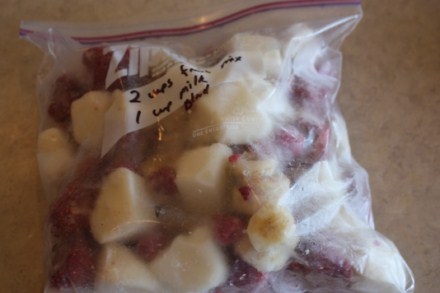 Skip those bags of smoothie mixes from the freezer section and make your own at home.
Total Time
2 hours
10 minutes
Ingredients
3 cups lowfat frozen yogurt
9 cups fruit, berries, bananas, peaches, etc
milk for serving
Instructions
Freeze yogurt in an ice cube tray. This will make yogurt cubes like the freezer mix. You can also place blobs of yogurt on a tray or cookie sheet and freeze them that way.
Once the yogurt is frozen pop out cubes.
Place yogurt cubes and frozen fruit in a large zip-top bag.
When ready to serve blend 2 cups of fruit yogurt mixture with 1 1/2 cups milk. Blend until desired texture.
Nutrition Information:
Yield:
10
Serving Size:
1
Amount Per Serving:
Calories:

190
Total Fat:

3g
Saturated Fat:

2g
Trans Fat:

0g
Unsaturated Fat:

1g
Cholesterol:

9mg
Sodium:

48mg
Carbohydrates:

40g
Fiber:

4g
Sugar:

29g
Protein:

4g
Nutritional values are approximate and aren't always accurate.