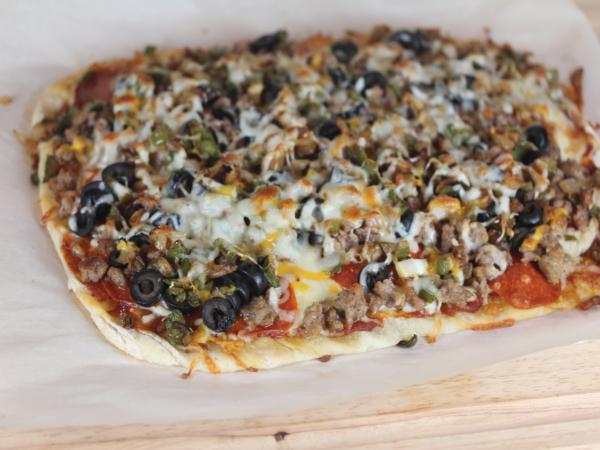 Some of you may have read that title and wondered why I am sharing a recipe for a homemade supreme pizza. Supreme pizza is pretty basic after all. It is pizza loaded with onions and peppers and whatever other toppings you want to add to it.
My recipe for homemade supreme pizza is actually more of a tip than a recipe. For years I did not think I liked supreme pizza. It was one of my least favorite ways to eat pizza. When I was out with friends and that is what they wanted to order I kind of dreaded eating it.
One day though it hit me why I did not like supreme pizza. You see I don't like raw onions, mushrooms, and peppers. I like them cooked, but not raw. I know many of you love them. I have friends who load their hamburgers with slices of onions and will eat slices of green peppers like they would a carrot, but I have never been one of those people.
I love those things, just not raw. So it makes sense that I don't really enjoy a supreme pizza because when you eat most supreme pizza the peppers and onions are still crisp.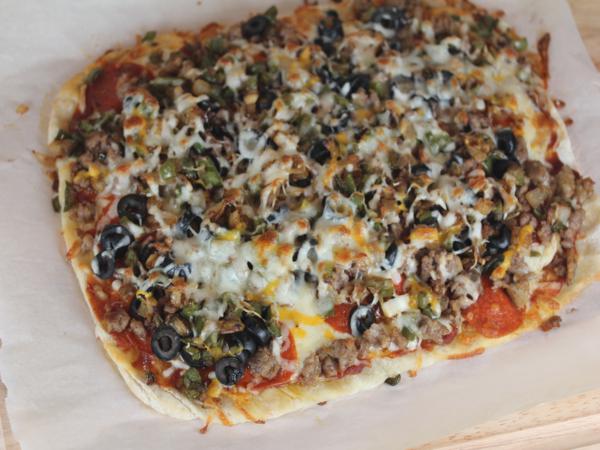 I found an easy solution though and that is to quickly cook the vegetables before I put them on my pizza. I told you it was simple. Now I love homemade pizza loaded with peppers, onions, and mushrooms. And I am wondering why it took me so long to realize this.
If you are like me and don't like your peppers and onions raw you should give this a try. It really is an easy tip that makes supreme pizza so much better.
How many of you are like me and don't like supreme pizza because you don't like your onions and peppers raw or crisp? Please tell me I am not the only one.
Yield: 8 servings
Homemade Supreme Pizza
Make pizza night even better with homemade supreme pizza.
Ingredients
1 pizza crust - see not below
1 /2 cup pizza sauce- I use homemade pizza sauce see note below
2 cups meat, pepperoni and/or cooked sausage, etc.
1/2 cup olives- optional
1/2 diced onion
1 diced green pepper
1 cup sliced mushrooms
3 cups shredded cheese
Instructions
Preheat oven to 425.
Cook onions, peppers, and mushrooms in 1 -2 tablespoons oil. Cook just until tender. Set aside.
Press dough out onto pan. Spread with pizza sauce.
Sprinkle with half of the cheese.
Spread meat, cooked vegetables, and any other toppings on top.
Sprinkle remaining cheese on top.
Bake for 15-17 minutes or according to directions.
Notes
For the pizza crust, you can use homemade, store-bought, or gluten-free. For gluten-free pizza I prebake the crust for 7 minutes, then add toppings, then bake for 7-8 more minutes.
For the pizza sauce I love to use homemade pizza sauce.
Nutrition Information:
Yield:
8
Serving Size:
1
Amount Per Serving:
Calories:

713
Total Fat:

31g
Saturated Fat:

13g
Trans Fat:

0g
Unsaturated Fat:

15g
Cholesterol:

88mg
Sodium:

1101mg
Carbohydrates:

74g
Fiber:

5g
Sugar:

6g
Protein:

34g
Nutritional values are approximate and aren't always accurate.