Need a quick and easy Instant Pot dinner? Try Instant Pot Chicken Fajitas.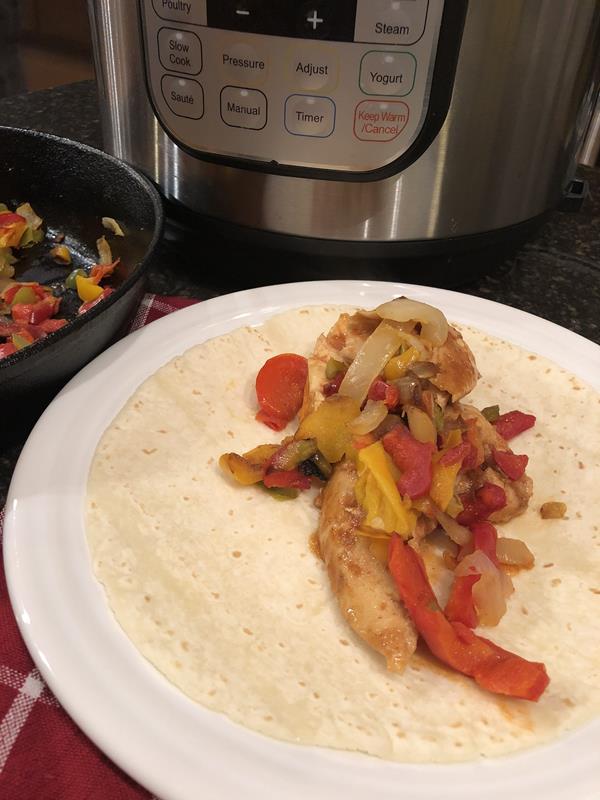 Earlier this year I asked my readers what type of recipes and tips they wanted to see more of. One of the most popular responses was for more Instant Pot recipes.
This is an easy request to fulfill because I love my Instant Pot and use it all the time. Many of the recipes that I make are very basic or they are simply my favorite Crock Pot recipes made in the Instant Pot.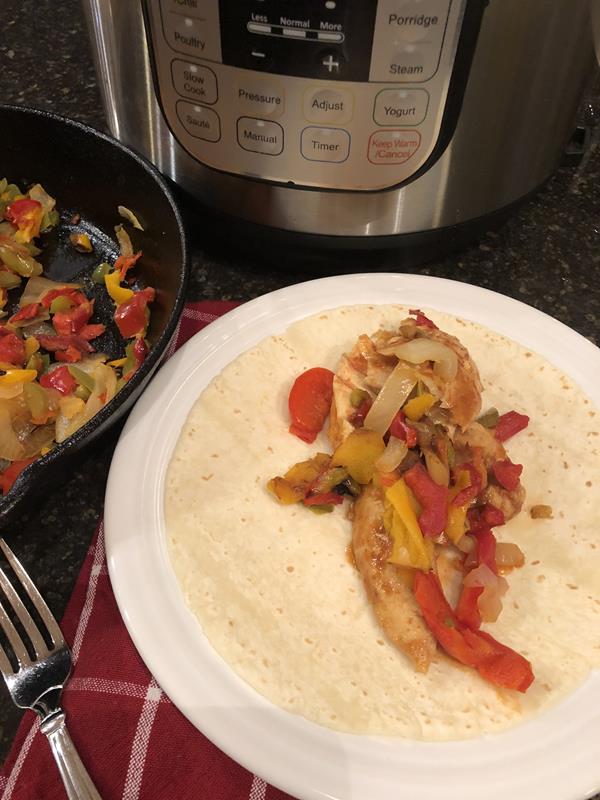 I haven't shared a lot of them them because they seem too simple and quite honestly often don't photograph well. But I should know by now that you all want easy simple recipes. Some of the most popular recipes on my site are the basic ones. They are often also the meals that don't photograph well.
I have learned that you all want real life recipes, not necessarily picture perfect ones. So today I am sharing my easy Instant Pot Fajitas. These fajitas are easy to make and taste great.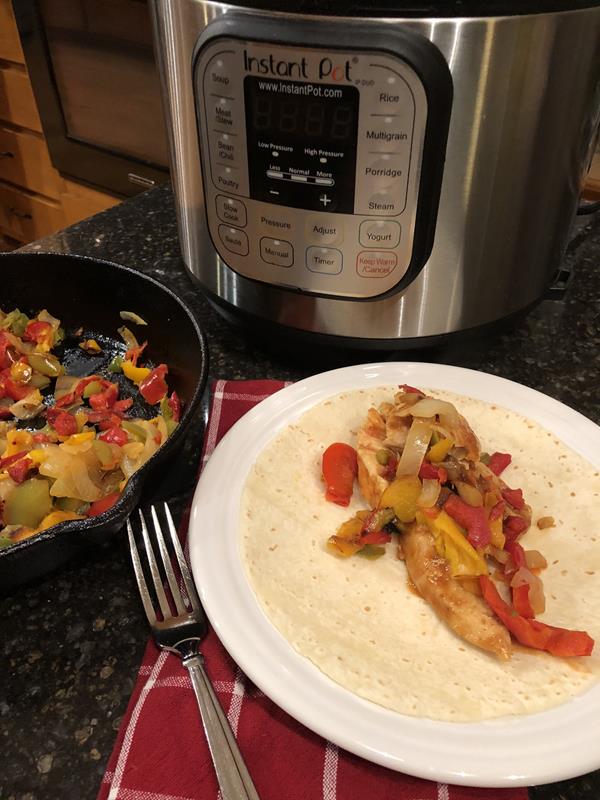 These fajitas are not super authentic, but they are so good. I adapted the recipe from my Crock Pot Beef Fajitas. They contain basic ingredients like canned tomatoes, green chili, and seasoning.
This recipe is just for the meat part of the fajitas. You can put the peppers and onions in with the meat, but most of my family prefers them cooked separate. It doesn't take me long to cook the onions and peppers separate in a pan on the stove, so that is usually what I do.
When I have very little time I put it all in the Instant Pot, just know that your peppers and onions will be very cooked that way.
This meat or meat, pepper, onion mixture is also great served over rice for fajita bowls.
Need more Instant Pot Recipes?
Need an Instant Pot? This is the Instant Pot I use and love.
Instant Pot Chicken Fajitas
Instant Pot Chicken Fajitas is an easy dinner for any night of the week.
Ingredients
3 pounds boneless skinless chicken, cut into strips
1 14.5 ounce can diced tomatoes
1 4 ounce can diced green chilies
1 8 ounce can tomato sauce
sliced green peppers
sliced onions
tortillas
cheese, etc for serving
Instructions
Place chicken in the Instant Pot.
In a bowl combine the tomatoes, green chilies, tomato sauce, and seasoning.
Pour tomato mixture over chicken.
Place lid on the Instant Pot and lock in place. Set valve to sealing.
Cook on manual for 13-15 minutes. If your pieces are larger cook 15 minutes. For smaller pieces cook 13 minutes.
Quick release the pressure. Remove the lid and serve.
While the chicken is cooking heat several tablespoons of oil in a pan over medium heat. Add onions and peppers. Cook until tender.
Serve onions and peppers with fajita meat, tortillas, cheese, etc.
Notes
You can cook onions and peppers with the chicken in the Instant Pot if desired. They will be very tender when cooked that way.
The time the meat needs to cook may vary depending on the size and thickness of the pieces of meat.
You can use a little more or a little less meat when making these.
The cooked meat freezes well, So freeze the leftovers for easy lunches and dinners.