I made bread this week. I tried a recipe for the first time. When I try a recipe for the first time I almost always follow the recipe. If I think something needs changed I will change it in the future. I do not understand when people say a certain recipe does not work. Then they add well I did this instead of that or I didn't have this ingredient so I used this instead. Well, no wonder it did not turn out. Do not complain if you did not follow the recipe. If you followed the recipe and it still was bad then it probably was the recipe but follow it the first time. Cooking is a science treat it that way and thing will usually turn out.
I usually add whole wheat to my bread. But since I try to follow the recipe the first time I used all regular flour. I must say I think this is one recipe that just would not be as good with whole wheat. This bread was wonderful just like it is. It had great flavor and was easy to make. We had it with pasta on Monday and again tonight with soup. I will be making this one again.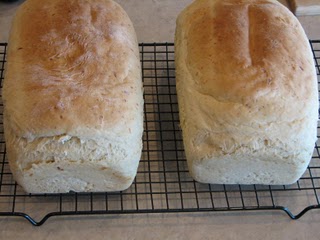 Italian Cheese Loaves
INGREDIENTS
2 packages (1/4 ounce each) active dry yeast
3 cups warm water (110° to 115°)
3 tablespoons shortening
3 tablespoons sugar
1/2 teaspoon salt
7 to 8 cups all-purpose flour
1/2 cup shredded part-skim mozzarella cheese
1/4 cup shredded cheddar cheese
1/4 teaspoon garlic powder
1/4 teaspoon onion powder
DIRECTIONS
In a large mixing bowl, dissolve yeast in warm water. Add the shortening, sugar, salt and 4 cups flour. Beat until smooth. Add the cheeses, garlic powder and onion powder. Stir in enough remaining flour to form a soft dough. Turn onto a floured surface; knead until smooth and elastic, about 6-8 minutes. Do not let rise. Divide in half; shape into two loaves. Place in two greased 9-in. x 5-in. x 3-in. loaf pans. Do no let rise. Bake at 350° for 25-30 minutes or until golden brown. Remove from pans to wire racks to cool. Store in the refrigerator. Yield: 2 loaves (16 slices each).