Last week I spent some time putting a few things in the freezer to prepare for company we will be having in a couple of weeks. We will be having a missionary family with seven kids stay with us. I will post more about that later. I decided with nine extra people in the house I better get some things made up ahead of time. So I made and froze barbecue pork and freezer french toast plus a few other things. I hope to do a little more this week.
Since Fish Mama has done several posts on her freezer cooking, I decided to post something that I think makes my life a little easier in putting things in the freezer. They are these: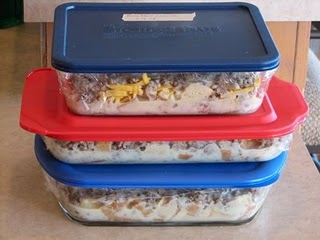 Simple Pyrex type containers, but what makes these so great is the lids. They make them stack so well in the freezer. I don't have to worry about things not staying stacked nicely. Because the lid is pretty sturdy, you can stack quite a bit of weight on it. I used to do a lot more freezer cooking when I was having health problems. I would cook when I was feeling well so that I would have meals ready when I wasn't feeling well. Because I did so much freezer cooking I invested in quite a few of these pieces. But they really were not that expensive at Wal-mart. Over the last few years I am so glad that I have had these. Even though I have scaled my freezer cooking back quite a bit, I still find myself using these dishes over and over again. I have several different sizes. I have 8×8, 11×7, and 9×13 and they all get used often.
For more great tools see Life As Mom.