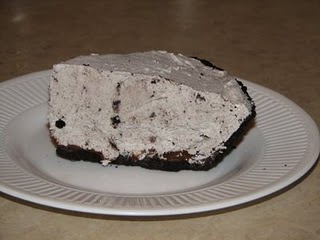 I made this pie on the 4th of July. It is a nice summertime dessert. It is easy to make. My ten year old daughter can even make it. But it is NOT healthy. It does not fit in to my trying to eat healthier and there is no way to make it healthy. But I had everything I needed for it, so I decided to go ahead and make it.
How can something with these ingredients in it taste bad. 🙂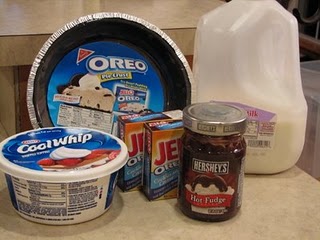 I found this recipe in a newspaper several years ago. I have taken it many times to church dinners and picnics. It is really good.
Oreo Pie
1/2 cup hot fudge dessert topping (or a little more, I don't usually measure it)
1 graham cracker crust or Oreo cookie crust (we prefer the Oreo)
1 8 ounce cool whip, thawed
1 1/4 cup milk
2 packages (4 serving size) Jello Oreo flavored instant pudding and pie filling
Spread hot fudge topping onto the crust (if the hot fudge is very thick, microwave it for about 25 seconds). In a bowl mix together milk and pudding mixes. Whisk together for 2 minutes or until well blended. Mixture will be thick. Fold in cool whip. Spoon over fudge layer in crust. If you have Oreo's crush up a few and sprinkle on top. This is not necessary but tastes good. For an ice cream type pie freeze for 4 hours or overnight. Remove from freezer 15 minutes before serving. For a pudding type pie refrigerate for 4 hours or overnight. We prefer the frozen but both ways are good.
For more great kitchen ideas see Tammy's Recipes.