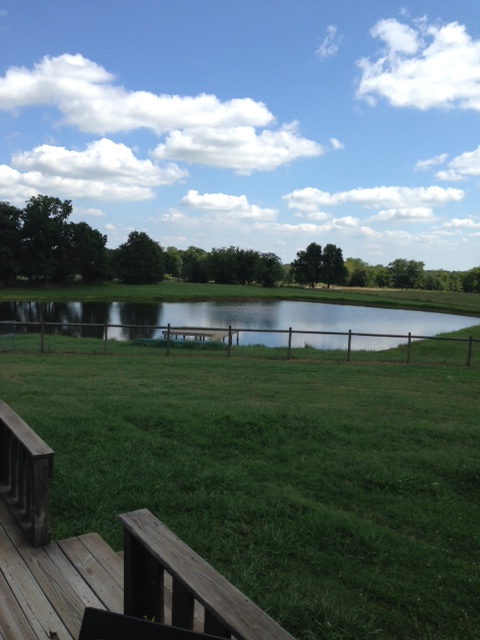 I finally have another kitchen update post for you. I have another one, which will be the last one and the one with all the new pictures next Wednesday, then we will be back to our regular What Is It Wednesdays.
Last week I gave you a quick tour of my old kitchen and what did not work in it. Today I want to share a few things we did to save money.
Now, I will start by saying none of things we did are ground breaking ideas, but they did save us a large amount of money. I also want to make clear that none of these are DIY projects.
My husband and I are not really DIY home remodel type people. We have our talents and home remodel is not one of them. It is way outside the zone of where we are comfortable. We preferred to hire people that knew what they were doing. But just because we hired most of the work out, doesn't mean that we did not want to save money.
We have lived in our house for nine years and we plan to live in it many more. You never know what the future holds, but this is a house we plan to live in for years and years. We have no plans of moving anytime soon and we took that into consideration when doing the remodel.
Living in the house of nine years helped us know what we wanted and did not want. We knew the flow of the house and how we would like to improve it. The fact that we have no plans of moving helped us focus on how we wanted the kitchen to work in the years ahead.
Keeping those things in mind I had three places that I knew I wanted to spend the bulk of my budget. Those things were cabinets, counters, and floors. The rest of the areas were where I choose to save money.
We did not move any major plumbing.
We moved the water line to the fridge and that was it. We took out the island, but my new sink and counter were based on the old plumbing and where it was. My sink is where it is because it is where the old plumbing was. Moving plumbing equaled a lot of money and it was an area I was willing to work around.
We did not move any major electrical. Yes, we added in a few new outlets and put in one floor outlet, but we did not make any major lighting or electrical changes. I would have loved to have all new lighting in the kitchen and dining area, but I could work with what we had, and save a ton of money by getting a couple of new fixtures instead of redoing it all.
I kept my old appliances.
Yes, oh yes I did. I know this is an area where many will disagree with me, but it just was not an area I cared that much about. My fridge, oven, and dishwasher have all been bought in the last five years. They worked and are fine.
Yes, they are black and don't match my kitchen as well as they could and they are not the new shiny stainless look that everyone loves, but I saved several thousand dollars by keeping the ones I had. I figure I can replace them as they break and need replaced.
The two appliances I did replace were the stove top and the microwave. The old microwave had problems and was going out. The old stove top was the original stove top that was put in when the house was built. It was not a high end stove top and I also hated it. It did not cook even or well. In my last two house we had gas and I loved it and always wanted to go back to gas. Because our house has propane, I was able to put in a new gas range and I love it.
I choose quartz counter tops.
I always said that I wanted granite counter tops when I redid my kitchen. A quick look at the price of granite, and the amount of counter space I had, and I quickly started researching other options.
We settled on quartz. It looks like granite. Most people will not be able to tell a difference. It is still a solid surface, so in that sense it is basically the same as granite. However, it was cheaper than granite and never needs sealed, which are the two things that sold me on quartz.
We did not move windows or doors.
If I had hired a designer to come in and help with my kitchen I am sure they would not have chosen the layout I did, but I was not willing to move any windows or doors. This goes along the same line as plumbing. I felt it was too expensive for the benefit I would get. I knew I could work with what I had and be happy. And I did.
Moving windows is expensive. We have a lot of windows in our downstairs. Tall windows. Windows that counter and cabinets cannot fit under. Changing those windows so that I could put a counter under it was just not worth it.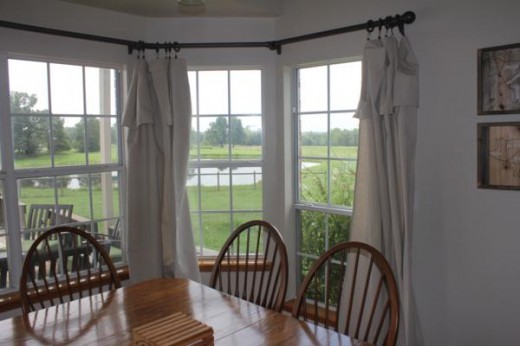 We also wanted out eating area to take full advantage of the view. I mean really would you want to lose that view from your kitchen/dining table?!
This was the view from the old formal dining room. It is hard to tell in the picture, but that is a large low window. A cabinet and counter could not fit under it. I wanted to take advantage of all the light that window would bring into the new kitchen and that made another good reason not to move or change it.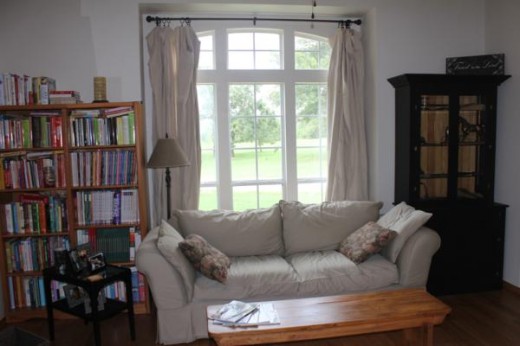 This is the view from our formal living room. The room we never used, that we now use all the time. Now this window was never in mind to do anything with, but it did play into the new design and why I choose the layout I did. I will explain more of that next week when I share pictures of the new kitchen.
But I did save money on window coverings. Like I said above I have a lot of tall and odd shaped windows. Window coverings mean a lot of money and I did not want to spend that money on window coverings, so I used drop cloths.
Yes, oh yes I did. And you really can't tell. I had used a couple before in the kitchen area along with PVC pipe curtain rods and I decided to continue the look throughout the main downstairs area. The look fits the look of our house which is pretty casual country rustic like. Fancy does not fit our house or life, so drop cloth curtains work just fine.
Need inexpensive window covers try drop cloths. Need rods for hard to fit windows, try PVC pipe. Both work great.
One last area I saved money on were colors and style.
Now this is not really so much saving money now, but later. I kept everything neutral and the style of the rest of the house. I love the rest of the house and don't have plans to change any of it anytime soon.
I did not want to feel like I had to update the rest of the house to match the new kitchen. The rest of my house is pretty simple and neutral in color and I choose to match the kitchen to that.
Like I said none of those tips are ground breaking ideas, but all of them added up did keep our over all budget down.
Next week I will share the new kitchen.