I love homemade pudding, and I make a lot of it. It is a dessert that you can make with basic pantry ingredients. I love it because you can use it in many different ways. Pudding is great on it's own, but it also works well in a pie or as a layer in a trifle.
The one thing I do not like about homemade pudding is when it is lumpy and full of chunks. Most homemade puddings contain eggs. The trouble with eggs in your pudding is that if they are not added at exactly the right time, in exactly the right way, they will ruin the texture of your pudding. And I don't know about you, but I like my pudding smooth and creamy, not full of bits of cooked eggs.
So, here is my tip for getting smooth and yummy homemade pudding. You strain it.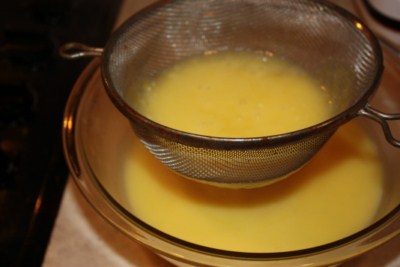 I know it is a pretty simple trick, but it works so well. As soon as I am done cooking the pudding, I put it through a strainer. This way all the chunks of cooked eggs, that give it the bad texture, get strained out. The eggs are in the strainer and the smooth yummy pudding is in the bowl. Doing this gives you perfect pudding every time.