This soup is so good. We loved this because it was thicker and more filling than your basic soup. It is definitely more like a stew than a soup.
This soup/stew is also a little different because it has a spicy Mexican type flavor. My family loves the flavors that are in Mexican foods, so this soup worked great for us. My whole family loved this. I liked the fact that it was one of those recipes that was so quick and easy to put together.
I keep cooked chicken in the freezer, so that I have it on hand for recipes like this. Having items like cooked chicken in the freezer makes dinner time and preparing meals like this much easier. It saves so much time to have the meat part of a meal cooked ahead and ready in the freezer for when you need it.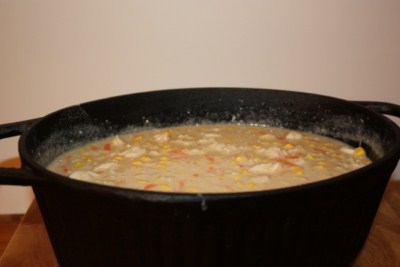 Mexican Chicken Stew
5-6 cups of cooked chicken, shredded
3 cans (14 fl. oz. each) reduced sodium chicken broth
2 cans (10 oz. each)green chili enchilada sauce ( I used green taco sauce to make this gf)
1 can (12 fl. oz.) Evaporated Milk
2 cups shredded carrots
1 cup uncooked long or medium grain rice
1 1/2 teaspoons ground cumin
2 cups frozen whole-kernel corn, thawed
1 1/2 cups broken tortilla chips
shredded cheese for serving
Combine broth, enchilada sauce, evaporated milk, carrots, rice and cumin in large saucepan. Cook over medium-high heat until mixture begins to simmer. Reduce heat to medium-low. Simmer for 20-25 minutes, stirring occasionally, until rice is tender. Add chicken and corn; stir and cook about 5 minutes more or until corn is tender. Serve with chips and cheese.