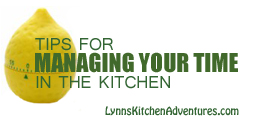 Today is Saturday, which means I was planning on posting another tip for managing your time in the kitchen.
However, I decided instead do a keeping it real post. I thought keeping it real and sharing my failures might be the best tip of all. None of us are perfect or have perfect plans.
I have had a crazy week. One of those weeks where I felt like I was just getting by.
We have eaten way too much junk food, my kitchen is a mess, and I have a pile of laundry that needs to be folded. As hard as I tried to manage my time this week nothing went as planned.
Sometimes no matter how hard we try, life happens, and that is okay. We need to know that things will go wrong and some days and weeks will be worse than others.
Sometimes we just have to go with it and realize that it will get better.
Thankfully tomorrow is a new week with a new plan.