Martha Stewart's Applesauce muffins are a classic old-fashioned recipe. They are easy to make with basic pantry ingredients.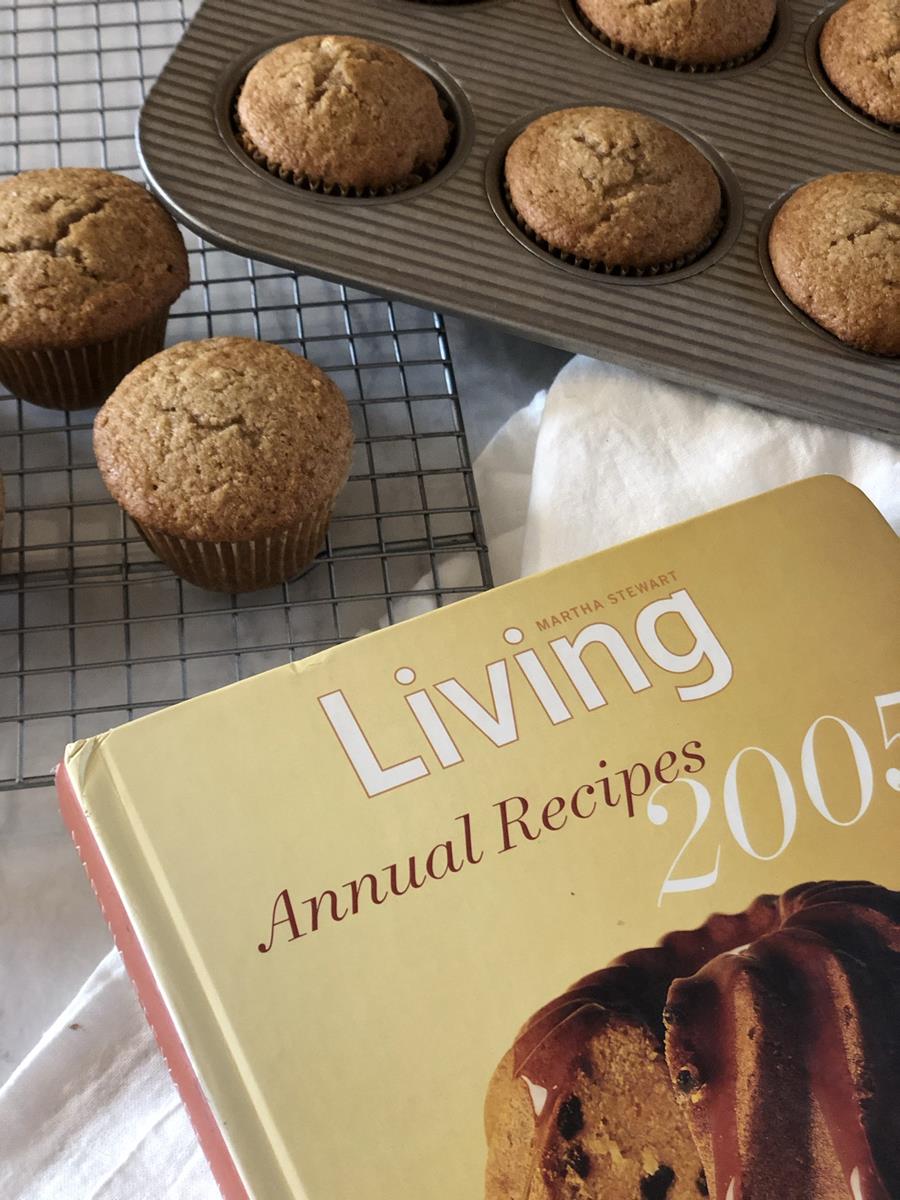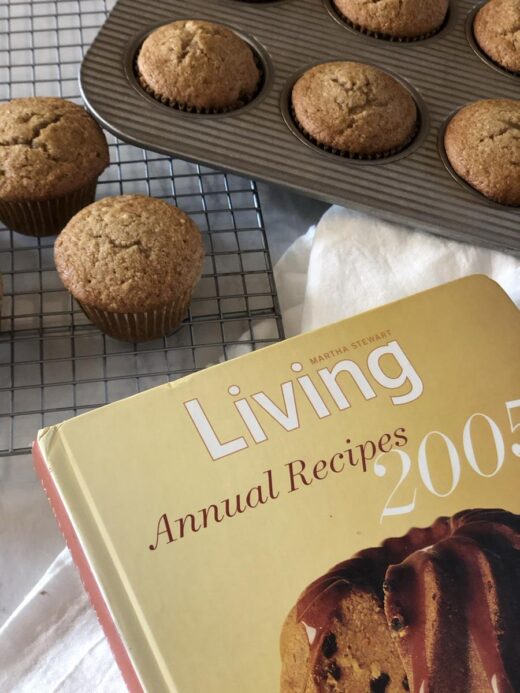 This week's recipe for my Year of Martha Stewart Cooking Challenge is an example of a Martha Stewart recipe that isn't gourmet or fancy. It is a simple old fashioned recipe.
This type of recipe is the exact reason I fell in love with Martha Stewart recipes years ago. Many of Martha's recipes are fancy and more gourmet, but so many of her older recipes are classic recipes.
Not only were they classic recipes, but they were also great classic recipes. You could almost always guarantee that they would turn out.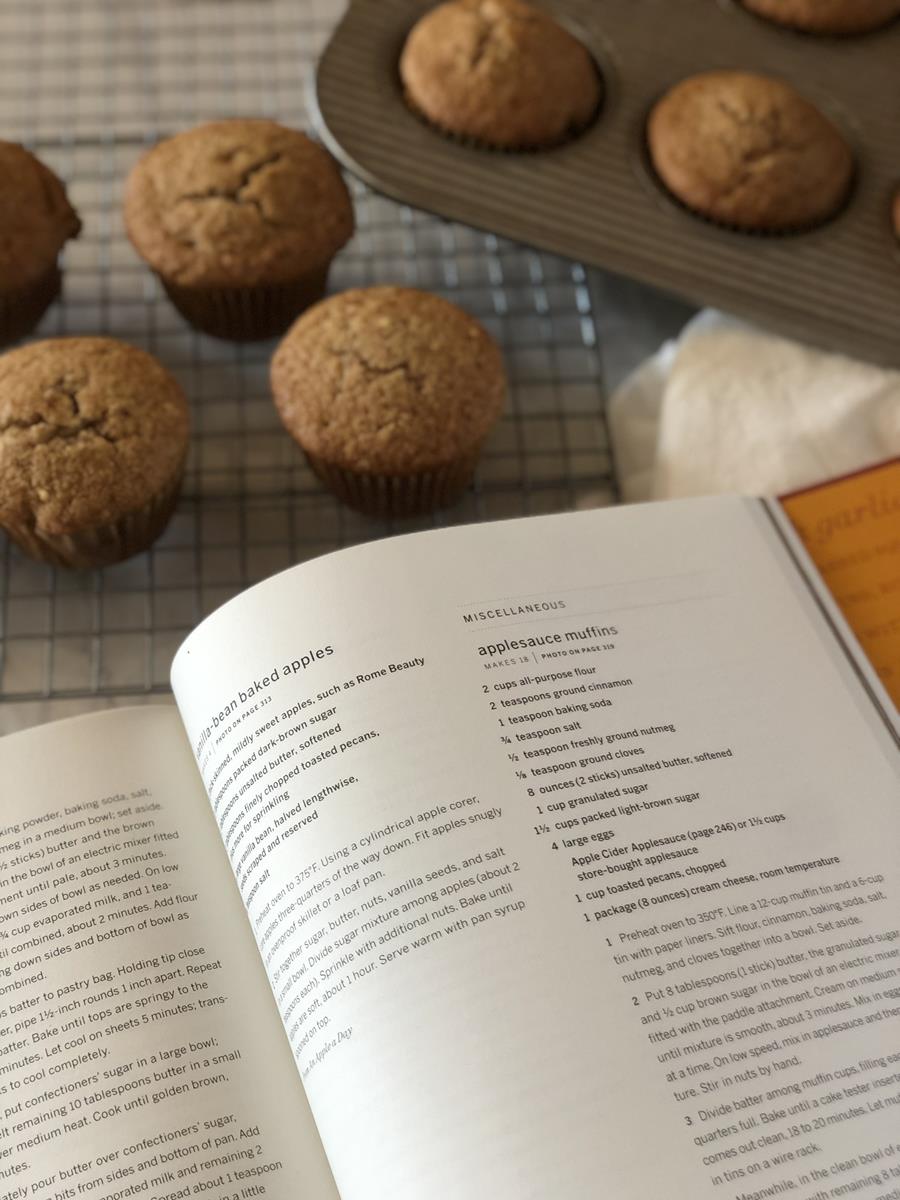 Martha Stewart Living Cookbook
My Martha Stewart Cooking Challenge though has made me realize that most of my Martha Stewart cookbooks are no longer published.
They are old. Or at least old enough that they are harder to get and can be expensive.
The recipe for Martha Stewart's Applesauce Muffins that I am featuring today comes from the Martha Stewart Living Annual Recipes 2005 cookbook. It is a collection of over 500 recipes from Martha Stewart Living Magazine.
I have several of these annual cookbooks and love them. If you can find them used they are worth picking up.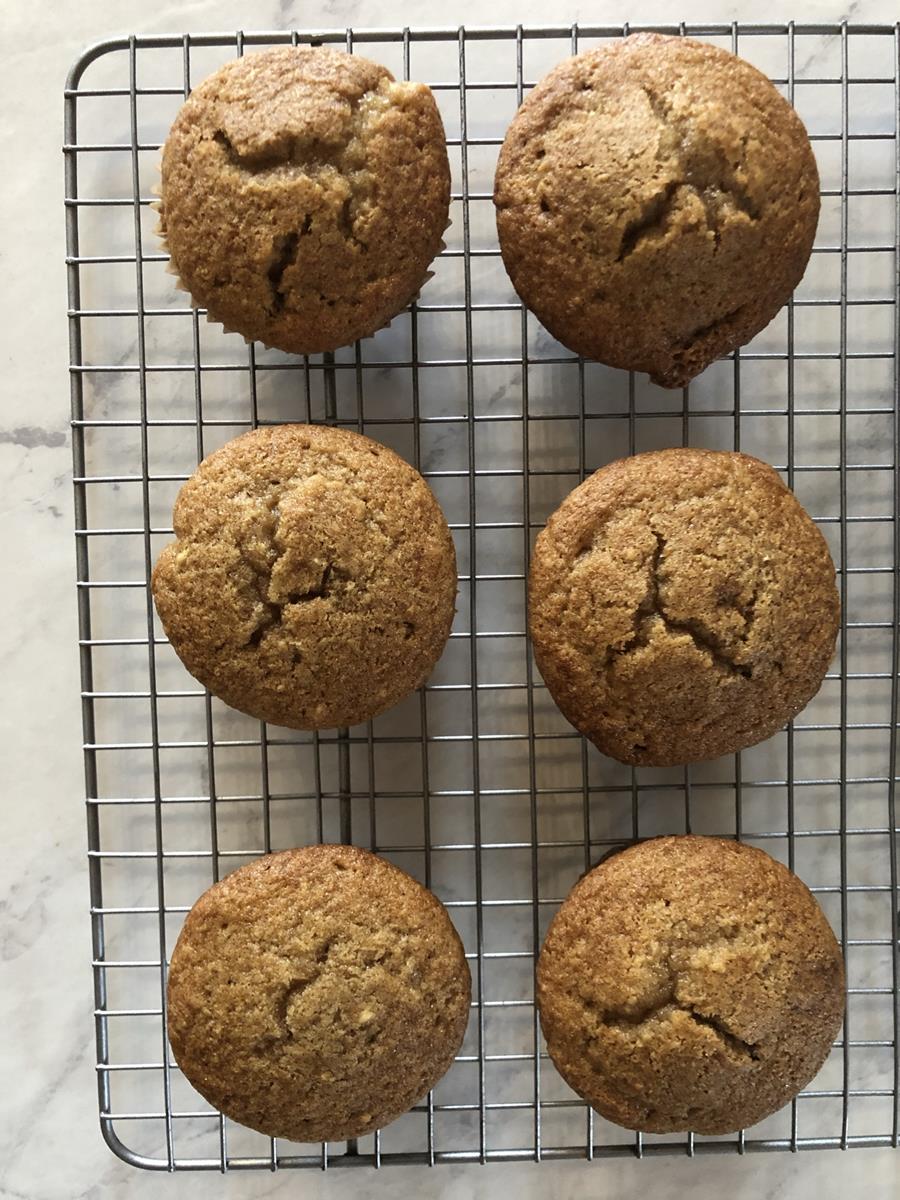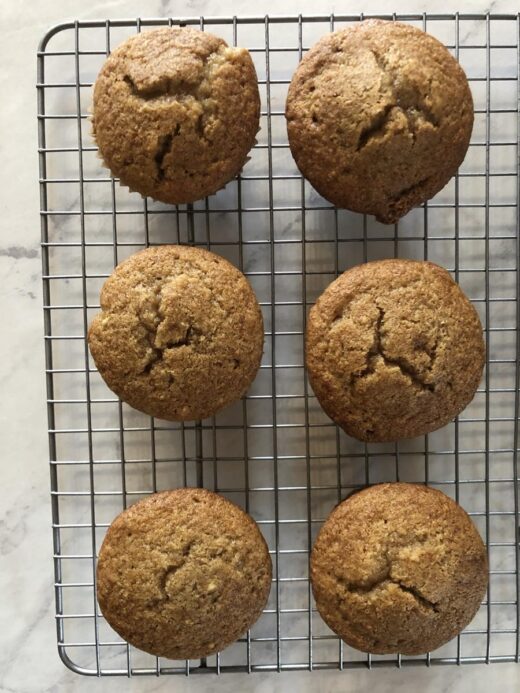 Martha's Applesauce Muffins
This recipe is a basic applesauce muffin recipe with everyday ingredients.
I followed the main part of the recipe. I did change three things though.
I did not use the apple cider applesauce. The recipe called for an apple cider applesauce that was included in the cookbook. I used a basic jarred applesauce that I bought at the grocery store.
I also skipped the cream cheese frosting that the recipe called for. Yes, Martha's recipe for applesauce muffins were frosted.
In my mind that makes them a cupcake. Isn't a frosted muffin a cupcake? Why would you frost something that you are eating for breakfast?
Yes, I know it would taste better, but it also makes it more of a dessert than a muffin.
I am sure Martha's brown sugar frosting is delicious, but I left it off. The muffins were still delicious without it.
I also used left out the nutmeg because my husband hates nutmeg and can taste even the littlest bit in a recipe. I wrote the recipe with the nutmeg though since I know that most people like it.
Can I make applesauce muffins gluten free?
Yes, you can! Martha Stewart's Applesauce Muffins turned out great gluten free.
All I did was use King Arthur's Gluten Free Flour blend in place of the regular flour. They were so good that you could not tell that they were gluten free.
I think Bob's Red Mill 1 to 1 gluten free would probably would great too. I did not try them with other blends, but they might work fine.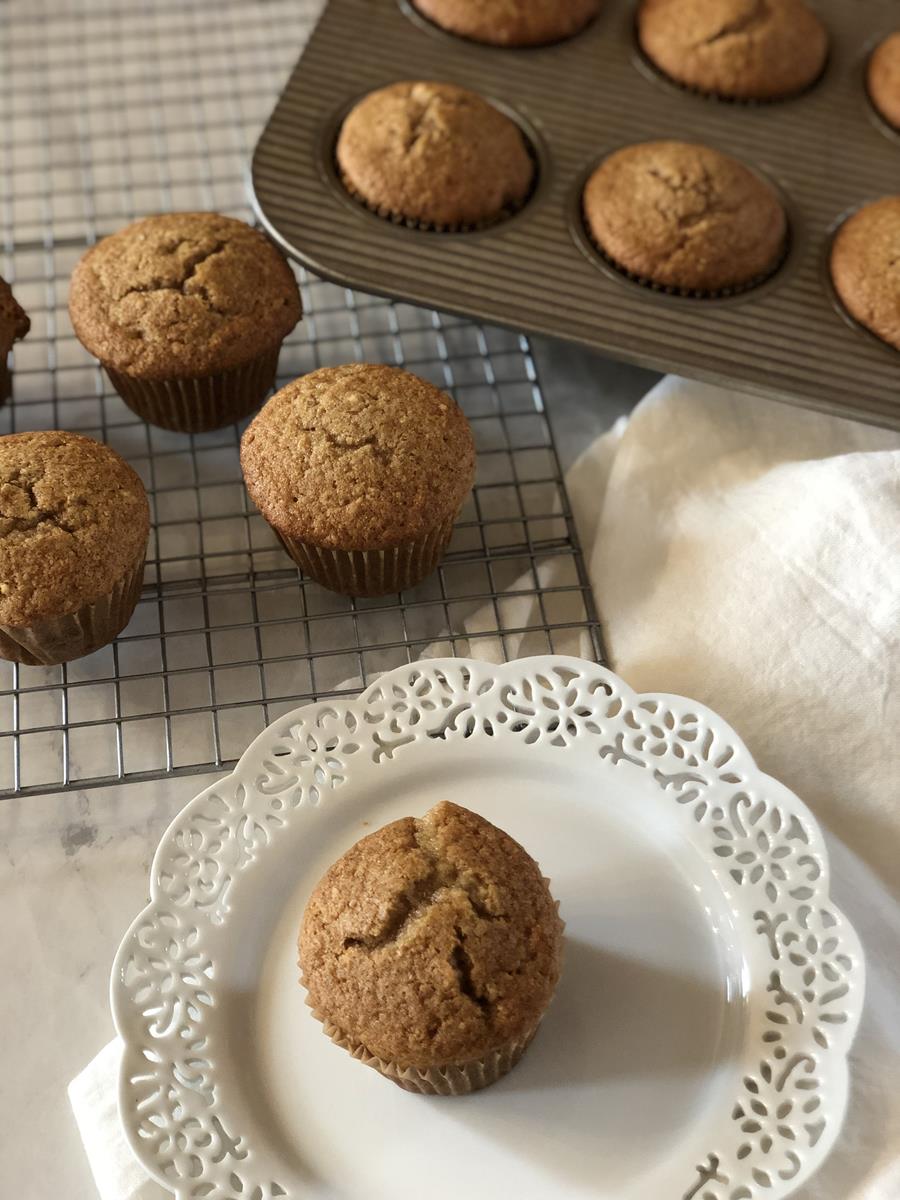 More Recipes Using Applesauce
Yield: 18 muffins
Martha Stewart's Applesauce Muffins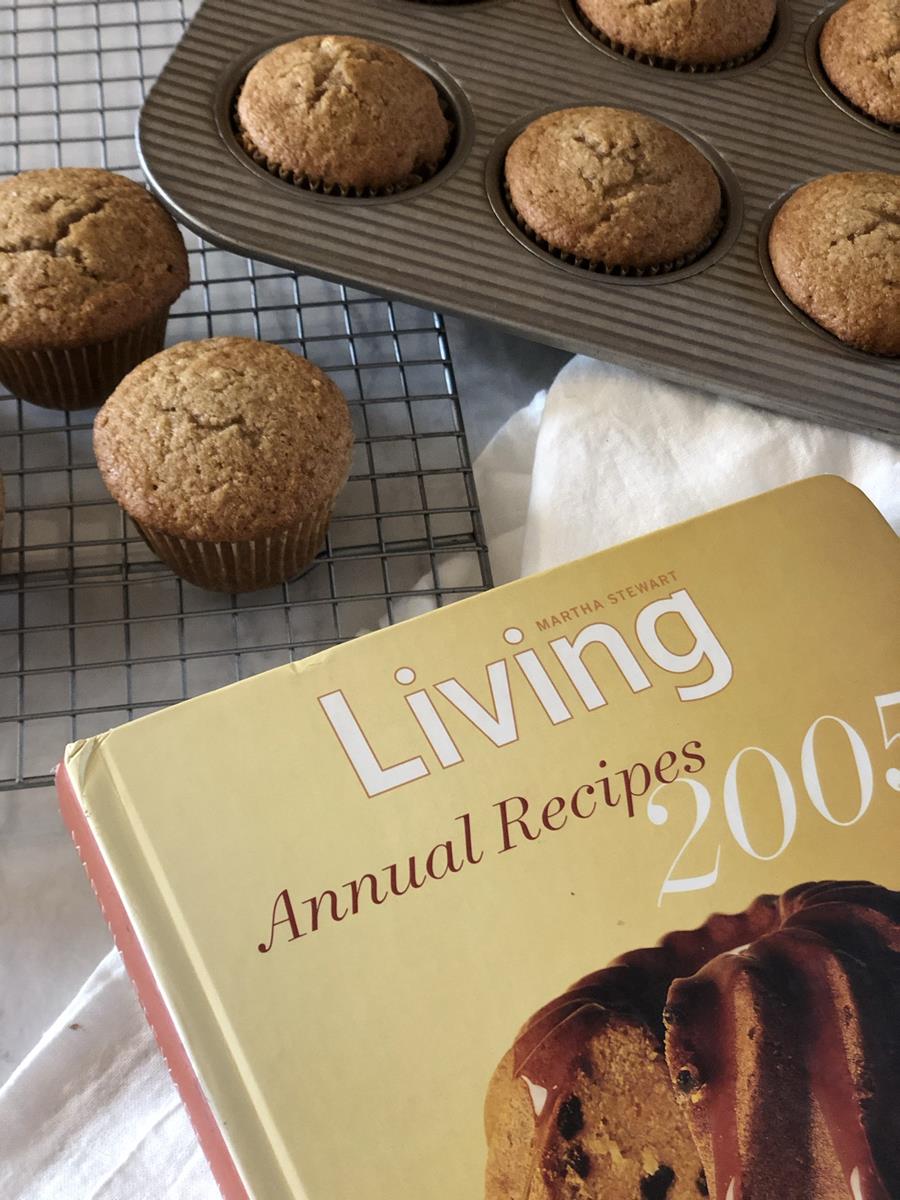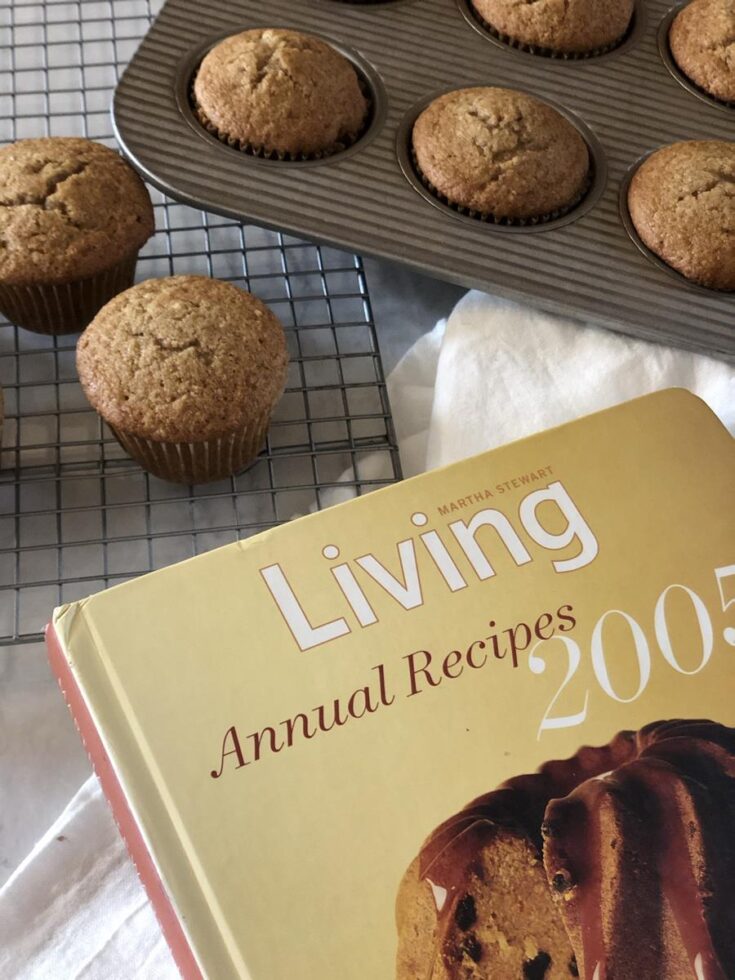 Martha Stewart's Applesauce Muffins are an easy and delicious old-fashioned recipe. It includes directions for making gluten-free.
Ingredients
2 cups all purposed flour or King Arthur's Gluten Free Flour Blend
2 teaspoons ground cinnamon
1 teaspoon baking soda
3/4 teaspoon salt
1/2 teaspoon ground nutmeg
1/8 teaspoon ground cloves
1/2 cup butter, softened
1 cup granulated sugar
1/2 cup brown sugar
4 eggs
1 1/2 cups applesauce
Instructions
Preheat oven to 350 degrees.
Line muffin tin with liners or grease well.
In a bowl combine flour, cinnamon, baking soda, salt, nutmeg, and cloves. Set aside.
In a mixing bowl combine butter, granulated sugar, and brown sugar. Cream on medium speed until the mixture is smooth and fluffy. This takes about 3 minutes.
Add in eggs, one at a time.
Add in applesauce mixing on low speed.
Slowly add in flour mixture.
Divide batter between 18 muffin cups filling cups about 3/4 full.
Bake for 18-20 minutes or until toothpick inserted into center comes out clean.
Remove to wire rack to cool.
Notes
For the gluten free version I tested them with King Arthur's Gluten Free Flour Blend. Other blends like Bob's Red Mill 1 to 1 Blend may work, but I have not tested them.
Nutrition Information:
Yield:
18
Serving Size:
1
Amount Per Serving:
Calories:

214
Total Fat:

6g
Saturated Fat:

4g
Trans Fat:

0g
Unsaturated Fat:

2g
Cholesterol:

55mg
Sodium:

217mg
Carbohydrates:

36g
Fiber:

1g
Sugar:

19g
Protein:

4g