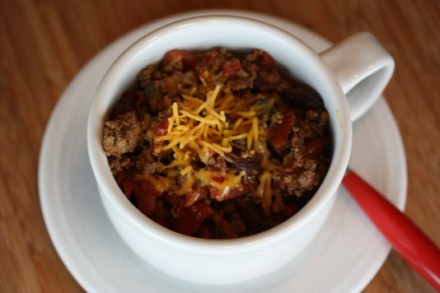 Today for Souper Monday we are talking chili. You may have noticed that my family loves chili and I have quite a few versions on my site, but this recipe today is one of my favorites.
I have been making this chili for close to fifteen years and it is the chili I make the most. This recipe came from a Taste of Home magazine from the the 1990's. I still love and use so many of those old Taste Of Home recipes and this is one of my favorites.
I actually shared this chili recipe several years ago, but it was buried in a menu planning post, and was hard to find on my site. So, I decided it was time that this chili got a post of its own.
One of the reasons that I love chili so much is because it is so versatile. You can easily double a batch of chili and freeze the extra for serving later on. In fact, this recipe makes enough for about 12 servings, so for most families this recipe will give you plenty to freeze or use later in the week.
And when serving chili leftover think of other ways to serve it. Things like Frito Pie, over baked potatoes, or frozen in small containers for lunches are all ways I use leftover chili.
What is your favorite way to serve leftover chili?
Slow Cooked Chili
2 pounds ground beef
2 cans (16 ounces each) kidney beans, rinsed and drained
2 cans (14-1/2 ounces each) diced tomatoes, undrained
1 can (8 ounces) tomato sauce
2 medium onions, chopped
1 green pepper, chopped
2 garlic clove, minced
2 tablespoons chili powder
2 teaspoons salt, optional
1 teaspoon pepper
Shredded cheddar cheese, optional
In a large skillet, cook beef, onions, and peppers over medium heat until the meat is done and onions and peppers are tender. Combine cooked beef mixture and the remaining ingredients, except cheese, and place in a slow cooker. Cover and cook on low for 7-8 hours or on high for 4 hours. Serve with cheese.