Gluten Free Applesauce Bread is an easy homemade gluten free version of an old fashioned applesauce bread recipe.
Some of the recipes that I miss the most since gluten free are the older recipes and foods that I grew up eating. Applesauce bread would be an example of that.
My mom made all kinds of cakes, quick breads, and muffins when I was growing up. She rarely followed a recipe exactly, but I can remember all kinds of apple and applesauce type of recipes that she used to make.
For some reason I recently craved applesauce bread. It has been forever since I have had it, but all of the sudden I couldn't stop thinking about the applesauce bread I used to make.
That seems to be the way it is with gluten free food for me. I have gone years without eating something and then all of the sudden I really want it and can't stop thinking about it.
When that happens I usually get to work creating a gluten free version of whatever it is I am missing.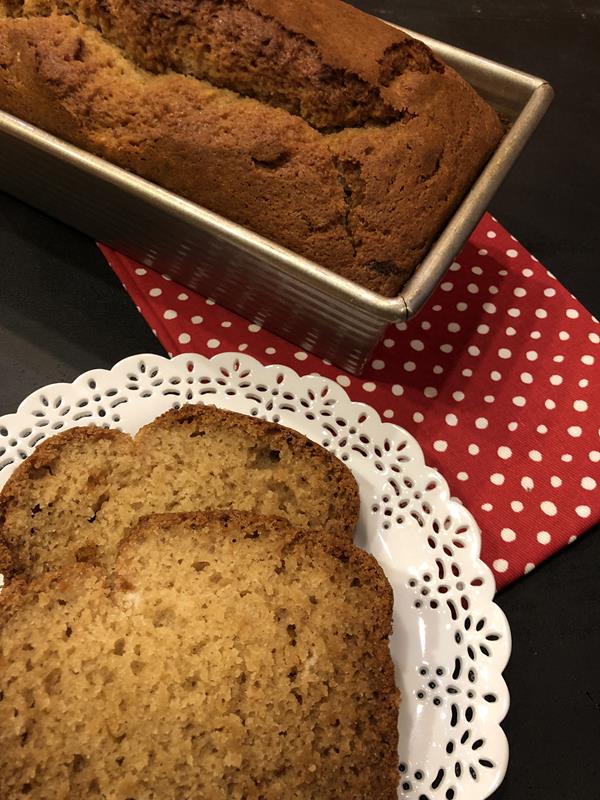 That is what happened with this applesauce bread. I was craving it and decided to adapt an old recipe for applesauce bread that I used to make.
How Did I Make It Gluten Free?
This one was easy to make gluten free. All I did was use Bob's Red Mill 1 to 1 Gluten Free Flour Blend. Other blends might work, but Bob's Red Mill is my favorite.
Often times I prefer to use the individual flours, but this bread has applesauce, oil, and lots of sugar in it. I was pretty sure Bob's Blend would work fine and it did.
Very few recipes adapt to gluten free this easily, so I love it when they do.
Can You Freeze Gluten Free Applesauce Bread?
Yes. It freezes great. You can let it cool and freeze the whole loaf or you can let it cool, slice it, and freeze individual size portions.
Can You Make Gluten Free Applesauce Bread Into Muffins?
Yes, you can. Scoop batter into a prepared muffin pan and bake for 18-20 minutes or until toothpick inserted into the center comes out clean.
Love Gluten Free Quick Breads? You Might Enjoy These!
Yield: 1 loaf
Gluten Free Applesauce Bread
A gluten free version of an old fashioned applesauce bread.
Total Time
1 hour
10 minutes
Ingredients
1 1/4 cups applesauce
1 cup white sugar
1/2 cup vegetable oil
2 eggs
3 tablespoons milk
2 cups gluten free flour blend ( I use Bob's Red Mill 1 to 1 GF Blend)
1 teaspoon baking soda
1/2 teaspoon baking powder
1/2 teaspoon ground cinnamon
1/4 teaspoon salt
Instructions
Preheat oven to 350 degrees. Lightly grease a 9x5 inch loaf pan.
In a large bowl, combine the applesauce, sugar, oil, eggs and milk mix until well combined.
Stir in the flour, baking soda, baking powder, cinnamon, and salt. Stir until smooth.
Pour batter into prepared loaf pan.
Bake in preheated oven for 60 minutes, or until a toothpick inserted into center of the loaf comes out clean.