Take a basic french toast to the next level with this recipe for Martha Stewart's Classic French Toast.
I do not normally use a recipe for French toast, but when I saw a recipe for Martha Stewart's French toast that had different instructions than I had tried before, I knew I wanted to try it for my Year of Martha Stewart Cooking Challenge.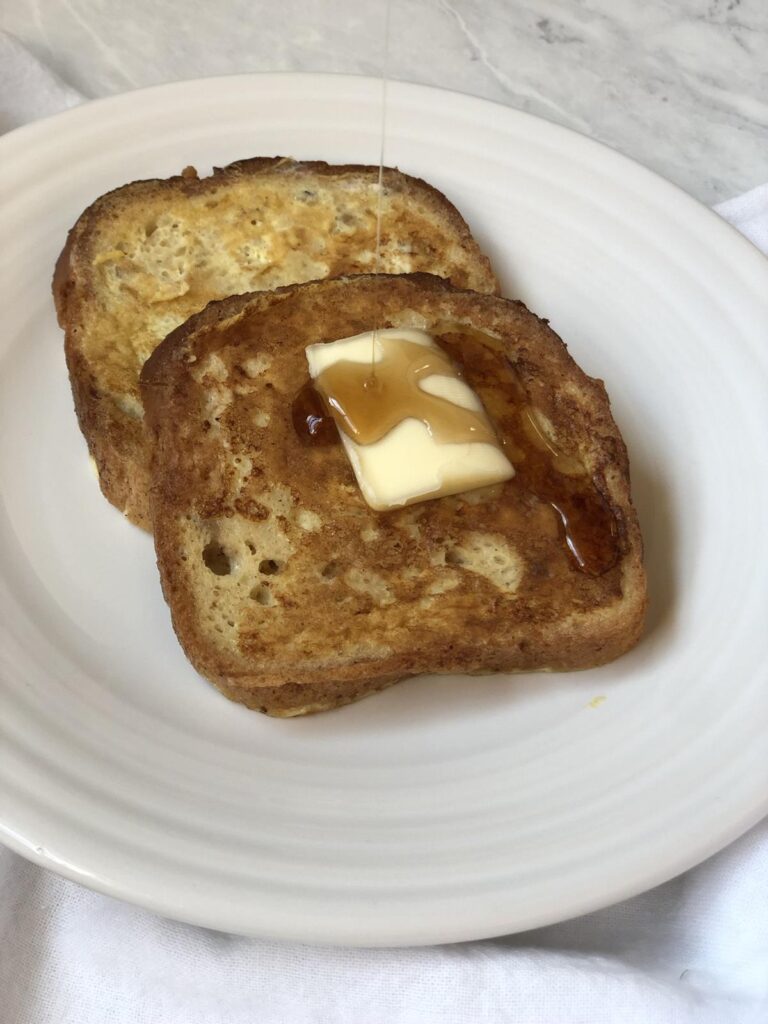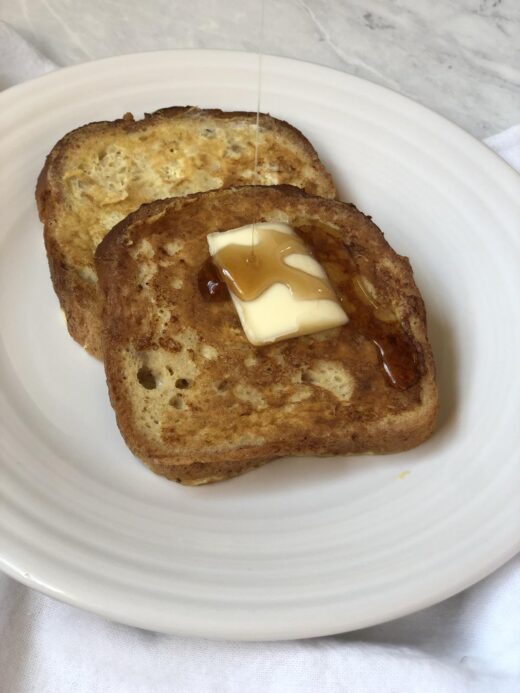 French Toast
French toast is one of my favorite fun meals to make. I love to serve it for breakfast and breakfast for dinner.
It is easy to make using basic ingredients. It is also a great way to use up bread that isn't quite as fresh as it should be.
French toast is actually better with homemade bread or thick sliced bakery-style bread that is at least a day old.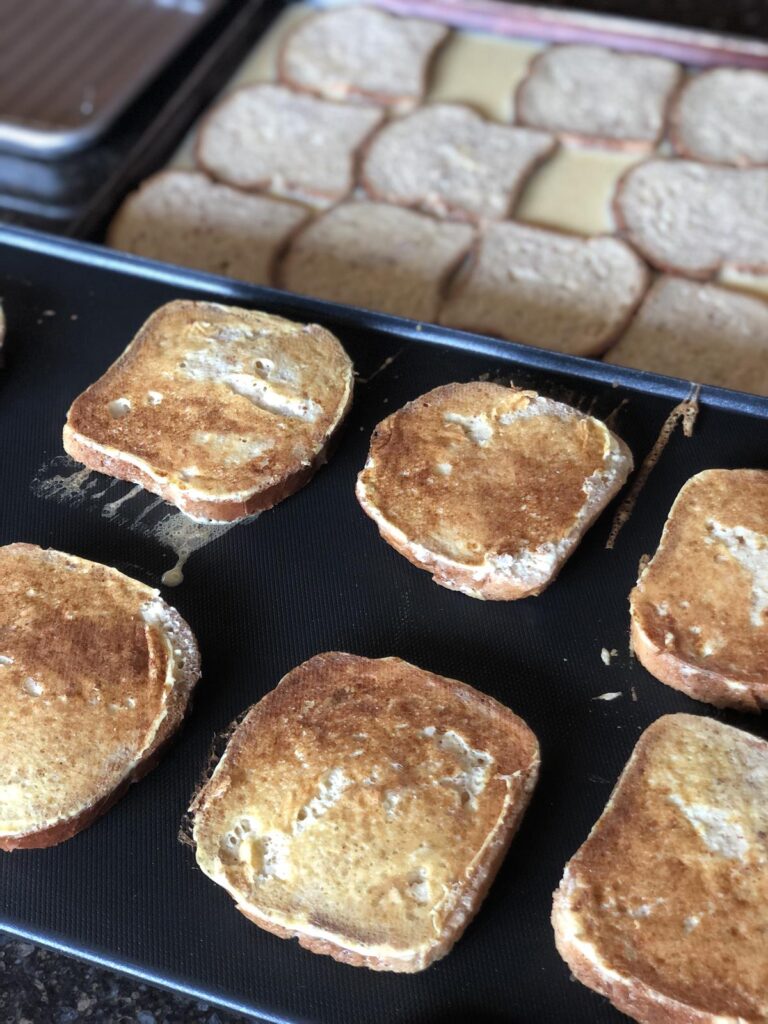 Tips For Making French Toast
My family declared Martha Stewart's Classic French Toast Recipe the best french toast that I have made. It has a few steps that I have not tried before that really do make it better.
Use day-old bread – As I mentioned above bread that is a day or two old works a lot better.
Egg to Milk Ratio – This recipe reminded me that the egg to milk ratio really does matter when it comes to French Toast. I often just mix in a few eggs and pour in some milk. I won't be doing that anymore. Having the right egg to milk ratio makes a big difference in the texture of the French toast.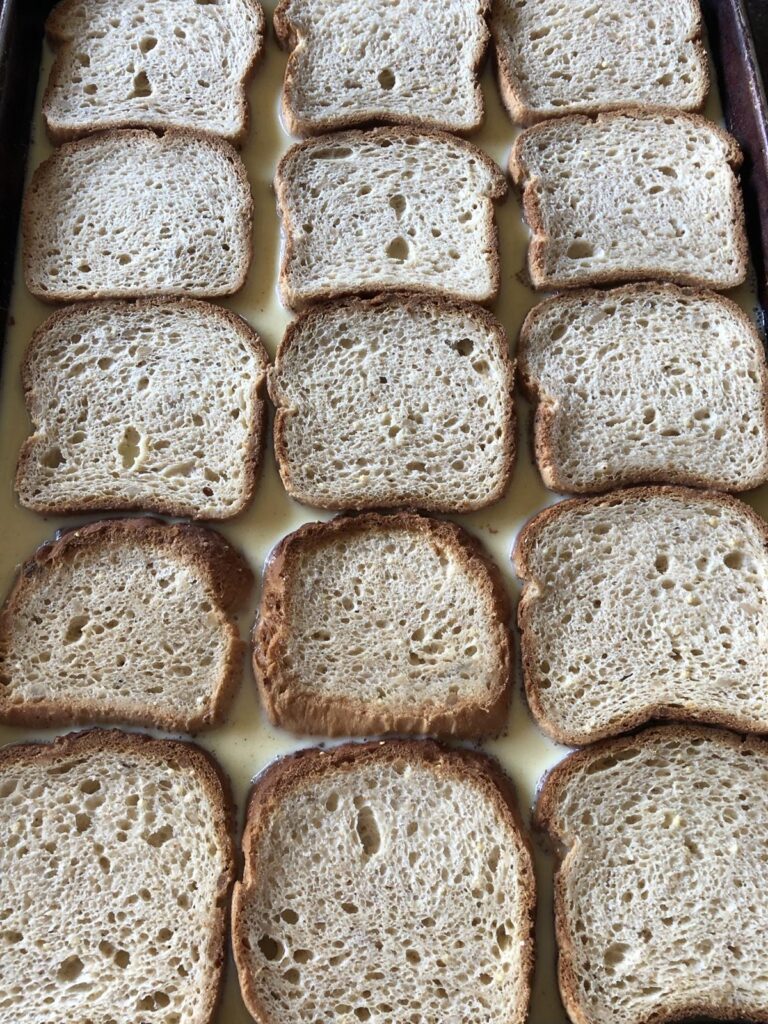 Soaking – I usually just quickly dip the French toast in the milk egg mixture and cook it. In Martha Stewart's Classic French Toast recipe she has you soak the bread in the milk-egg mixture for 20 minutes. It makes a difference. I didn't quite do 20 minutes, but soaking it at least 5 minutes per side gives it a much better texture than just a quick dip in the liquid.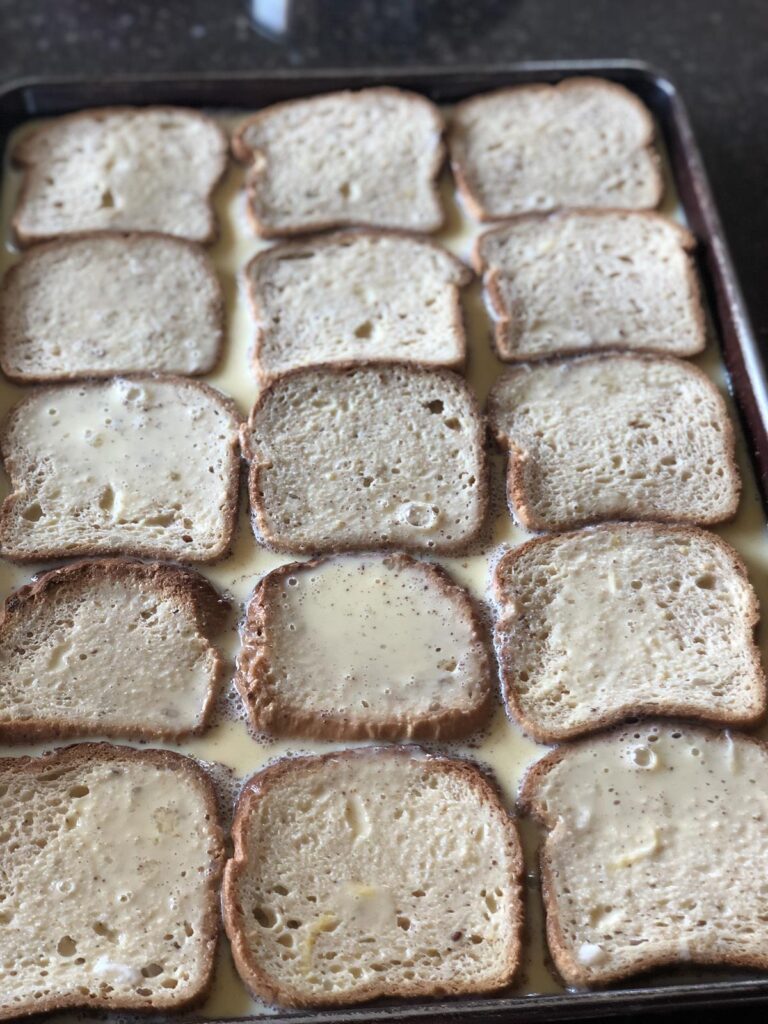 Keeping Warm – The best way to keep the French toast warm and not soggy is to put it on a cooling rack and place it in a warm oven.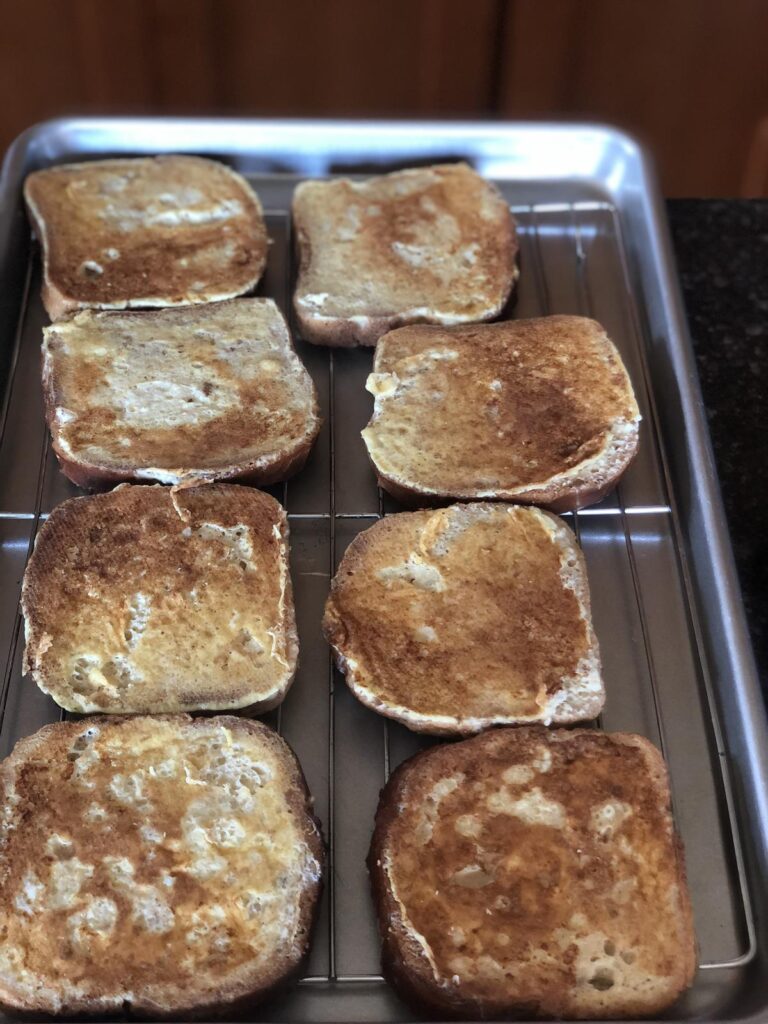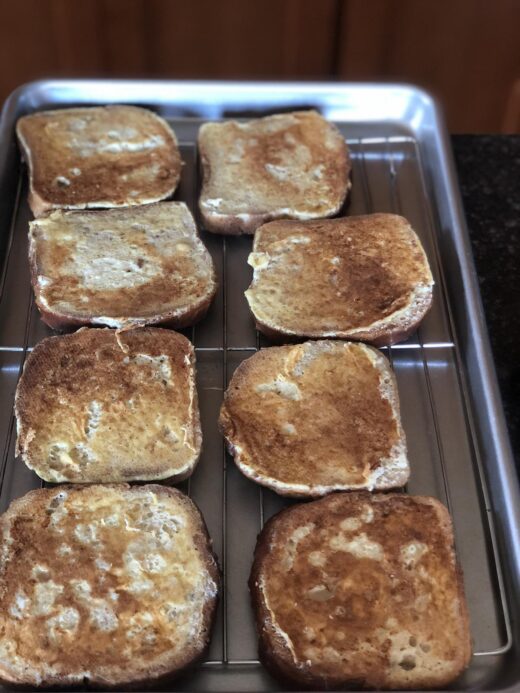 Spices and Vanilla – Cinnamon, nutmeg, and vanilla are not necessary in French toast, but they add a lot of flavor. We leave the nutmeg out because several in my family do not like nutmeg, but a good amount of vanilla and some cinnamon add great flavor.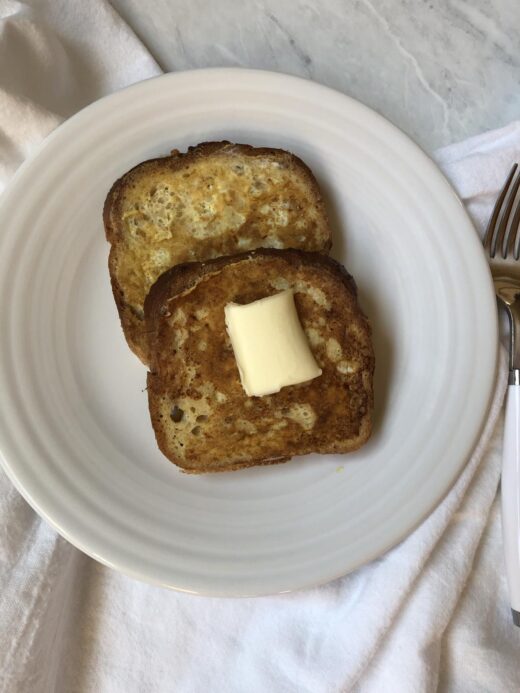 Can I make French toast with gluten free bread?
Yes, you can! In fact, the pictures for this post were taken with gluten free bread. I eat gluten free, so I just used a basic sliced gluten free bread and it worked great.
Ingredients
eggs
cream, half and half, or milk
vanilla extract
ground cinnamon
ground nutmeg
salt
bread
butter
oil
syrup for serving
Yield: 6 servings
Martha Stewart's Classic French Toast Recipe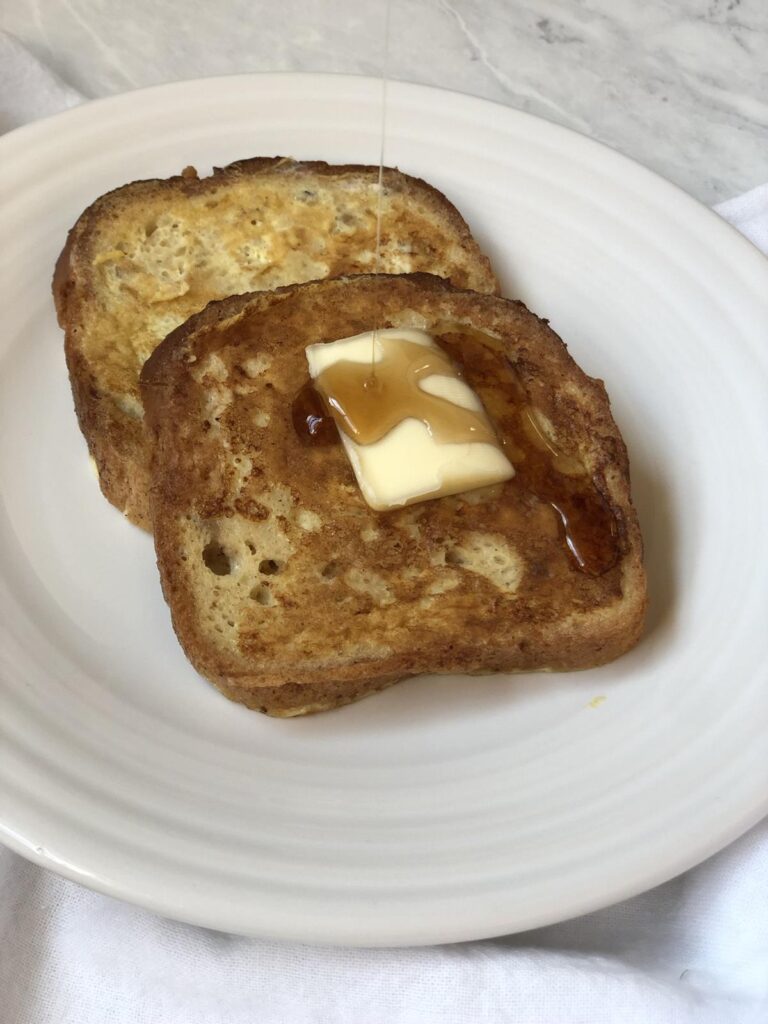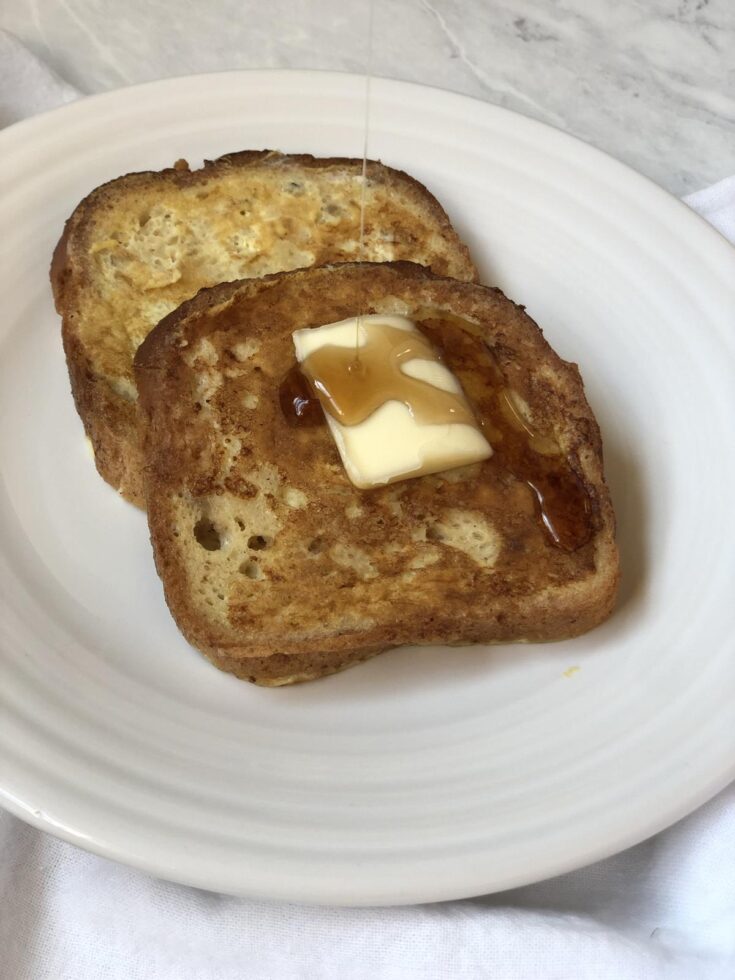 A classic French toast recipe made with a few easy tips.
Ingredients
6 eggs
1 1/2 cups milk ( use half and half or heavy cream for a richer version )
2 tablespoons vanilla extract
1/2 teaspoon ground cinnamon
pinch of ground nutmeg
pinch of salt
6 slices thick day or bread or 12 slices of thinner sliced bread ( use gluten free bread for gluten free version )
4 tablespoons butter
4 tablespoons oil for cooking
Instructions
In a bowl whisk together eggs, milk, vanilla, cinnamon, nutmeg, and salt.
Place bread in a single layer in a shallow baking pan or cookie sheet with sides.
Pour egg mixture over bread. Let soak about 10 minutes.
Flip bread over and soak for 10 more minutes making sure the bread is coated well.
Preaheat oven to 250 degrees. This will keep the French toast warm and not soggy.
Place a cooling rack on a baking sheet and set aside.
Heat skillet or griddle. Add part of the oil and butter to pan.
Cook several slices of bread 2-3 minutes per side.
Transfer to wire rack and place in oven to keep warm.
Wipe out skillet if needed. Add more oil and butter, cook several more slices of bread 2-3 minutes per side.
Repeat until all bread is cooked.
Notes
If I use a nonstick griddle I reduce the amount of oil and butter.
My favorite way to make this is with part cream and part milk for the liquid.
Nutrition Information:
Yield:
6
Serving Size:
1
Amount Per Serving:
Calories:

444
Total Fat:

25g
Saturated Fat:

8g
Trans Fat:

0g
Unsaturated Fat:

15g
Cholesterol:

211mg
Sodium:

513mg
Carbohydrates:

37g
Fiber:

2g
Sugar:

8g
Protein:

14g
Nutritional values are approximate and aren't always accurate.