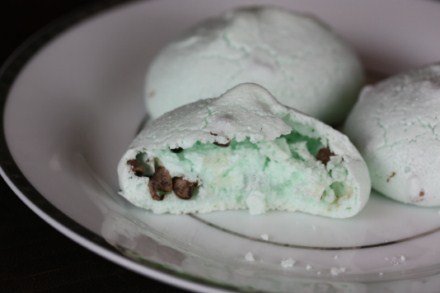 Meringue cookies have always fascinated me. They are crunchy on the outside and light and airy on the inside.
Many people are intimidated by meringue cookies, but they are really very easy to make, they just take a little time.
We love this mint version of meringue cookies. I used a little green food coloring in mine, but you could easily do a little red, or make a batch of both for a really fun plate of  holiday cookies.
Mint Chocolate Meringue Cookies
4 egg whites at room temperature ( Room temperature eggs are important. The meringue whips up better.)
1 teaspoon cream of tartar
1 1/3 cup sugar
½ teaspoon mint extract
2-3 drops of green food coloring
1 cup mini chocolate chips
Preheat oven to 350 degrees.
Line 2 baking sheets with parchment paper and set aside.
In a bowl beat egg whites with an electric mixer until foamy.
Add the cream of tartar and beat until fluffy, but not stiff.
Add sugar slowly 3 tablespoons at a time.
Continue beating until all the sugar is added. Add mint extract and food coloring and beat until meringue is shiny and firm.It should form peaks.
Gently fold in miniature chocolate chips.
Drop by tablespoon full carefully onto baking sheets.
Place in oven. And turn off oven. Leave in the oven for at least 2 hours or overnight until cookies are crisp and dry. The meringue cookies will cook from the heat of the turned off oven.
Store in an airight container.
Serve and enjoy.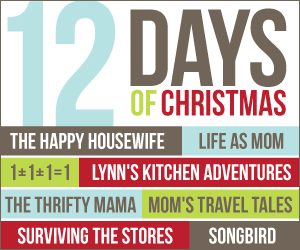 For more great Christmas ideas please visit the other bloggers joining me on this series.
Christmas Homeschool Fun: 1+1+1=1
Christmas Decorations: Songbird
Tips for a Healthy Holiday: The Thrifty Mama
Saving Money: Surviving the Stores
Travel Tips: Mom's Travel Tales
Christmas Family Fun: Life as Mom
Homemade Christmas Gifts: The Happy Housewife