My mom has been making these lemon bars for over forty years. They are a tried and true family favorite.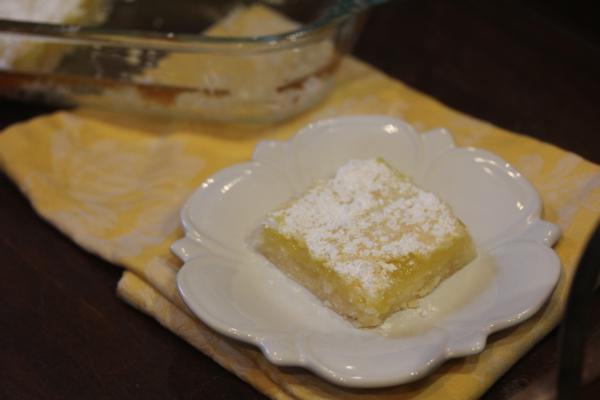 One of the first recipes I shared here on my site, way back in early 2008, was a recipe for my mom's lemon bars. It was a recipe that she has made for years. It was one of the desserts that she made all the time when I was a kid.
Her lemon bars, coconut bars, and no bake cheesecake were the desserts that she was known to bring to almost any family or church event that we went to. Yes, she made other things, but those were the three tried and true favorites that she always went back to when she needed a quick and easy dessert.
And those three recipes are probably the three recipes my sisters and I remember most from our childhood. We ate them all the time. I don't think any of us can eat them without them bringing back all kinds of memories.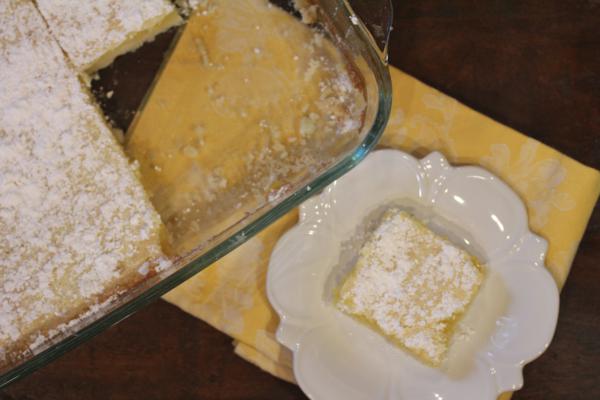 I know why my mom loved making these lemon bars. They are easy to make, she always had the ingredients on hand, and everyone loved them. They are just one of those simple old fashioned desserts that everyone seems to love.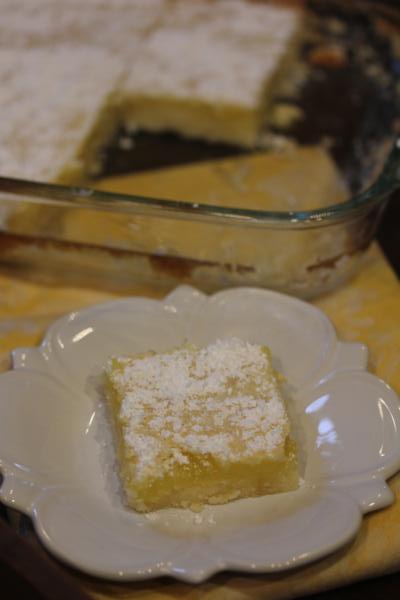 Yesterday I shared the gluten free lemon bars that I finally perfected. It was one of those recipes that took me awhile to get just right. I wanted them to taste just like the lemon bars I remembered as a kid and I finally got them just like the lemon bars I remember.
When I shared the gluten free version and looked back at the recipe I shared years ago here, I knew it was time for an update.
Now, the actual recipe did not need an update. I still make these the same way my mom always did, but the pictures definitely needed updating. My old post had one very poor and very small picture in it. The recipe was also pretty poorly written. It was time for a redo.
If you have never made lemon bars you need to. They are so good. They are one of my favorite desserts and will always be one of those recipes I turn to when I need a quick and easy dessert.
One quick note on the recipe though. Modern times and chefs would have us believe that this recipe needs real freshly squeezed lemon juice. This recipe is not one of those times. My mom has been using the bottled stuff for years.
Fresh lemons were not a common staple in our house growing up. Bottled lemon juice on the other hand, was a staple in our house. It works and it is what my mom used. Now, I am all for freshly squeezed lemon juice for some things, but for this recipe I never use it. I use the regular old, comes in a bottle, lemon juice. It works, it is cheap, and I always have it on hand.
If you are gluten free or know someone that is gluten free be sure to check out the gluten free lemon bars I shared yesterday. And if you want to see the lemon bar post from 2008 you can click here. On second thought please don't click there you don't want to see a post from 2008 do you? Well if you do be nice because blogging and websites have changed since 2008.
Yield: 18
Mom's Lemon Bars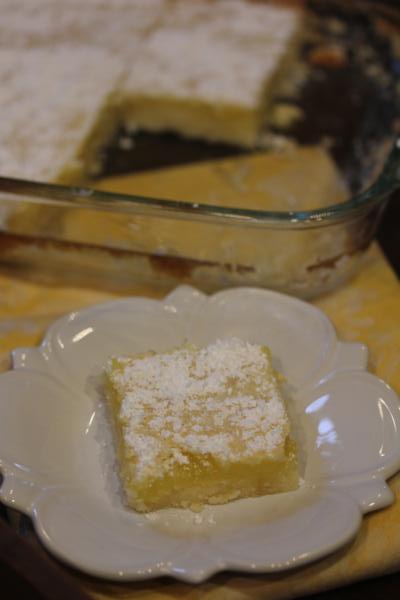 My mom's lemon bars are a classic recipes that my family has been making for over 40 years.
Ingredients
Crust
1 cup butter, cut into pieces
1/2 cup powdered sugar
2 cups flour
Filling
2 cups sugar, regular white sugar not powdered sugar
4 tablespoons flour
4 tablespoons lemon juice
4 eggs
Instructions
Preheat oven to 325.
In a bowl mix together powdered sugar and flour.
Cut in butter until the mixture resembles coarse crumbs.
Press into a 9x13 pan and bake for 20 minutes.
While crust is baking make the filling by whisking together the sugar, flour, lemon juice, and eggs.
Whisk until well combined.
Pour over cooked crust and bake for 22-25 minutes more.
Let cool slightly and dust with powdered sugar.
Let bars finish cooling and cut into squares.
Nutrition Information:
Yield:
18
Serving Size:
1
Amount Per Serving:
Calories:

288
Total Fat:

11g
Saturated Fat:

7g
Trans Fat:

0g
Unsaturated Fat:

4g
Cholesterol:

68mg
Sodium:

98mg
Carbohydrates:

44g
Fiber:

0g
Sugar:

32g
Protein:

3g