My mom's rhubarb cake is an old-fashioned dessert that is an easy and delicious spring treat!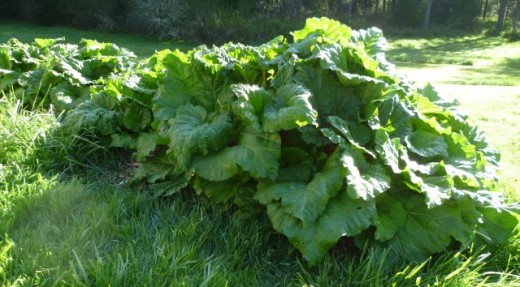 When I was going through some pictures on my computer the other day, I came across a few pictures from my trip to Oregon last year. One of the pictures I found was of a piece of my mom's rhubarb cake.
My husband loves rhubarb and if it is anywhere near rhubarb season when we visit my family, my mom always tries to make rhubarb cake for my husband. I took a picture planning to share the recipe last year, but I never got around to it. Today I am fixing that and sharing the recipe.
Rhubarb was always one of the first signs of spring when I was growing up. When the rhubarb started growing we knew spring, gardening season, and better weather was on the way.
My parents have always had a huge rhubarb patch and there was always plenty to share with anyone that loved rhubarb.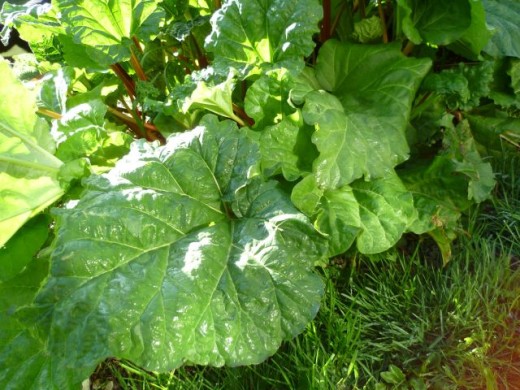 These pictures are of my parent's rhubarb patch this year. I called my dad yesterday and asked if he could take a few pictures of the rhubarb growing since I did not get any pictures of it last year. He went outside, took a few pictures, and sent them to me.
Yes, this is their rhubarb already this year. That is what a 30+ year old rhubarb patch growing in Oregon looks like. Pretty Amazing and beautiful isn't it?!
Over the years mom has made more rhubarb desserts than I can count, but the cake I am sharing today has always been my favorite. In fact, it is the only way I will eat rhubarb. I am not a fan of rhubarb, but give me a piece of this cake and I was happy.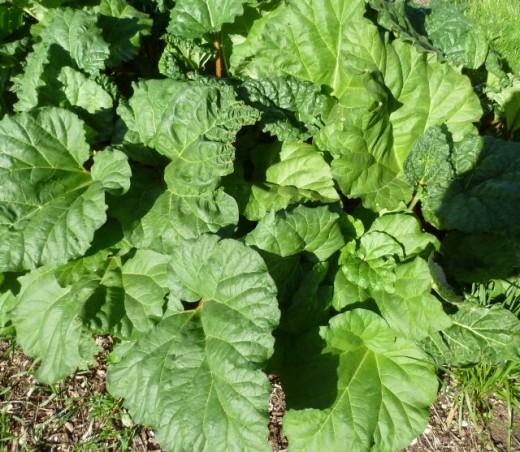 I am guessing rhubarb cake is probably not on the top of your list of recipes to try right now. In fact, I would guess many of you have never even had rhubarb, but this cake really is worth trying. If you have a rhubarb patch in your garden or come across some at your local store, please give this a try.
This recipe was passed to my mom from a family friend and it needs to be passed on to others. This is one of those old fashioned simple desserts that should not be lost. You know this is an old recipe when it calls for sour milk and stirring by hand. (I give other options below in case none of you have sour milk sitting around.)
And this must be made by hand. It really does turn out better mixed by hand with a wooden spoon instead of a mixer. The old fashioned way just like our grandmas and great grandmas used to do.
Now I am curious how many of you have tried rhubarb before? If you have eaten it, do you have a favorite rhubarb dessert?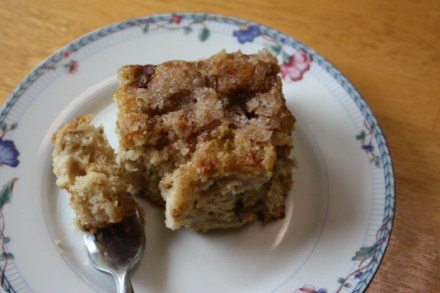 Yield: 15 servings
Mom's Rhubarb Cake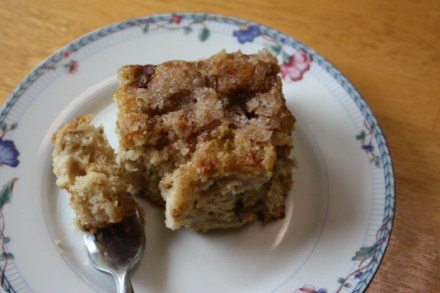 My mom's rhubarb cake is a simple and delicious old fashioned dessert!
Ingredients
2 1/2 cups flour
1 teaspoon baking soda
1 teaspoon salt
1 1/2 cups brown sugar
1 egg
2/3 cup oil
1 cup buttermilk (or sour milk by using 1 cup milk and add 1 teaspoon of vinegar and let sit for a few minutes to sour)
1 teaspoon vanilla
1 1/2 cups finely diced rhubarb
1/2 cup chopped walnuts ( optional, but really good)
Topping
1 cup sugar
2 tablespoon butter, melted
2 teaspoons cinnamon
Instructions
Preheat oven to 325.
In a large bowl combine flour, baking soda, salt, brown sugar, egg, oil, sour milk, and vanilla. Mix by hand until well combined.
Stir in diced rhubarb and walnuts.
Spread into a greased 9x13 pan.
In a small bowl combine topping ingredients and sprinkle over cake batter.
Bake for 35 minutes.
Serve warm or room temperature.
Notes
Bob's Red Mill 1 to 1 Gluten Free Flour Blend can be used for a gluten free version.
If you do not have buttermilk you can sour milk by using 1 cup milk and add 1 teaspoon of vinegar and let sit for a few minutes to sour.
Nutrition Information:
Yield:
15
Serving Size:
1
Amount Per Serving:
Calories:

274
Total Fat:

13g
Saturated Fat:

1g
Trans Fat:

0g
Unsaturated Fat:

12g
Cholesterol:

13mg
Sodium:

267mg
Carbohydrates:

36g
Fiber:

1g
Sugar:

19g
Protein:

4g