I have been wanting to post about my daughter's crochet projects for awhile. I thought today I would take the opportunity to show off some of her work for Show and Tell Friday.
My daughter loves to crochet and has been crocheting for two years. She loves it and has quite a talent for it. The amazing thing is she is only ten. I know I am her mother but I think she has a pretty special talent to be doing the crochet work she does at ten.
She has recently started her own "business". She has the opportunity to place her work in an antique mall. We have started a blog for her so that family and friends can see some of her work. You can visit it her site Briannas Creative Crochet. We also made business cards/tags to attach to her work. Catherine helped us with the design of both the blog and the cards. I think she did a great job.
When we visited family in OR recently she had twenty four doilies ordered. She is already busy working on those.
These she has finished, starched, and ready to go.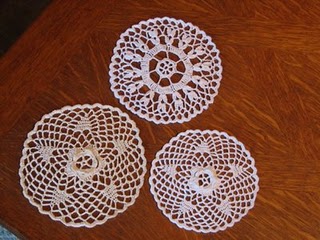 These are finished but still need starched.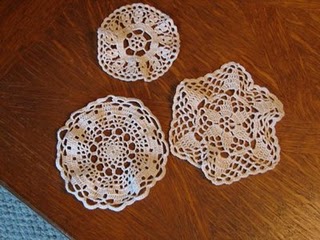 She is working on two more now. She also made me a table center last year for Mothers Day. I hope you enjoy seeing her work.