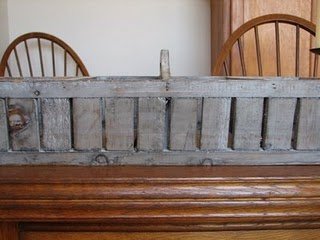 This is my favorite basket. Why? It is so useful. It looks very nice. I have this on a windowsill for display. But this basket has been used a lot. I use it for silverware and napkins when I have company. I have used it for our yearly office party. I have also used it for church picnics. I even use it when missionary families stay with us. It looks so much nicer to serve a buffet style meal with a basket like this holding the silverware and napkins.
I saw this in a catalog several years ago. I ordered it because it was made of wood and I knew it would hold up to a lot of use. I have seen other versions though that could be used in the same way.
For more unique items see Show And Tell Friday.