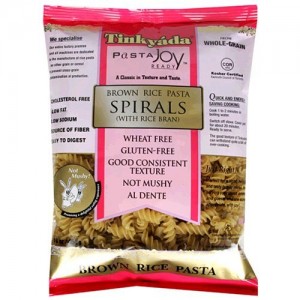 One of the questions that I get asked often is about gluten free pasta. Many people have emailed me, or left comments on the recipes on my main site, asking me what I like and what I suggest they try when it comes to gluten free pasta. So, I decided that it was time to share my thoughts on gluten free pasta.
I will be very honest here about gluten free pasta, in my opinion most of them are awful, or at least most of the ones that I tried when I first went gluten free. In fact, the first few brands that I bought had me quite discouraged because I thought that I would never be able to enjoy pasta again.
I got tired of buying and trying gluten free pasta only to have it end up in the trash because it was so bad. Gluten free pasta is expensive. I did not want to keep spending money trying different brands, so I totally understand the frustration with gluten free pastas.
Over the last two years though I have tried a lot of gluten free pastas and I can now say that I love pasta once again. No, none of them are quite the same, but there are several that I really do enjoy and buy often.
Early on in my gluten free life, when I was about to give up on gluten free pasta, my sister told me to try Tinkyada Brown Rice Pasta
. I had trouble finding this brand at the time in my area, but once I found some we discovered we loved it. And it is still the gluten free pasta that I find I use the most.
Tinkyada Brown Rice Pasta
has become easier to find in my area, in fact I can usually find it in the small gluten free section of Wal-mart, but I do usually order it online because it is so much cheaper that way.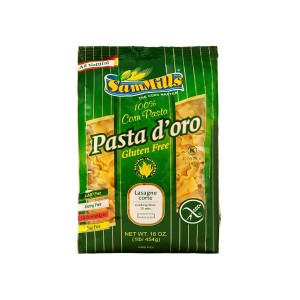 I recently also discovered Sam Mills Gluten Free Pasta
,thanks again to my sister who told me about it, and we have really enjoyed this one as well. The Sam Mills pasta seems to hold up pretty well when cooked in the oven. The texture of the Tinkyada pasta changes quite a bit when baked in something like a casserole or my taco pasta, so I am having fun using the the Sam Mills Gluten Free Pasta
in some of my casserole type dinners.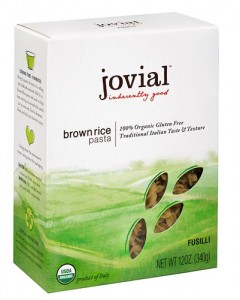 Jovial Gluten Free pasta
is another one that I tried recently and that we really enjoyed. I heard about Jovial Gluten Free pasta
from both The Gluten Free Homemaker and my sister. I have not used this pasta much, but what I have used it for we have really enjoyed. I used it in macaroni and cheese recently and it worked great and I am looking forward to trying this one some more.
I have also tried Quinoa Pasta and I think it works well in pasta salad, but we don't really like it for eating in spaghetti or casserole type meals.
Now, since I know there are quite a few gluten free pastas available and we all have different opinions, what are your favorite gluten free pastas to use?
Note: This post contains affiliate links, but I was not compensated in any way from these brands to write this post. I truly love and use these products and wanted to share my thoughts on them with you.