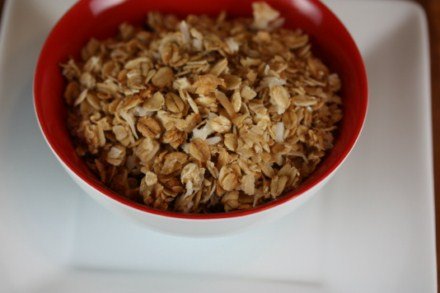 We love homemade granola and I make it often. One of the things I love about homemade granola is that I can control the ingredients that go into it.
It is also easy to change it up and make all kinds of different flavors. The coconut granola I am sharing today is one of the newest ways that I have changed it up a little.
This coconut granola is my new favorite granola. I love eating a bowl of it with yogurt or milk for lunch. Yes, I eat granola for lunch often because it is a healthy and quick lunch, but this is also perfect for a healthy breakfast.
If you have not tried homemade granola I encourage you to give it a try.
Homemade Coconut Granola
1/3 cup brown sugar
1/3 cup coconut oil
1/2 cup honey
2 teaspoons vanilla
3 cups old fashioned oats ( I used gluten free)
4 cups quick oats ( I use gluten free)
1 1/2 cups coconut
1/2 teaspoon coconut extract (This is optional, but really gives it a nice extra boost of coconut flavor.)
In a small saucepan mix together brown sugar, coconut oil, and honey. Bring to a boil. Remove from heat and add vanilla and coconut extract.
In a large bowl combine oats, coconut, and sugar/oil mixture.
Stir until oats are well coated and everything is combined.
Spread into 2 9×13 pans.
Bake at 350 degrees for 10 minutes.
Stir, turn off your oven, and put the granola back into the oven for 3-4 hrs. The heat left in the oven will finish cooking this. I love this because I can make this and walk away for a few hours without having to continually stir the granola.
Remove from oven after 3-4 hours. Let cool and store in an air tight container.