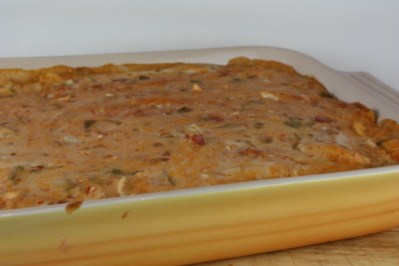 Let me start by saying my kids love this. It is a kid friendly and fun meal. I know it is not the healthiest of dinner choices, but it is a good. Monica recently posted a similar recipe that her family enjoys.
I love to make a meal like this when I am tempted to go out to dinner. This may not be the healthiest meal, but it is healthier and cheaper than eating dinner out.
Serve this with a salad and you have a quick and easy dinner in no time. I like to keep cooked chicken in the freezer just for meals like this. It makes putting this dish together much easier.
I have a similar version of this I make with beef that we also enjoy.

Nacho Cheese Tortilla Chicken Bake
8 cups nacho cheese tortilla chips, crushed ( I used cool ranch Doritos now because they are supposed to be gf)
2 cans (10-3/4 ounces each) condensed cream of chicken soup, undiluted ( I used a homemade version to make it gf)
2 cup cooked chicken
1 cup salsa
1 cup  shredded cheddar cheese
1 can (4 ounces) chopped green chilies
Additional shredded cheddar cheese for topping
Arrange chips in a greased 13-in. x 9-in. baking dish. In a bowl, combine the soup, chicken, salsa, cheese, and chilies. Pour over chips. Sprinkle with additional cheese. Bake, uncovered, at 325° for 40-45 minutes or until bubbly.
For more great recipes see
Tasty Tuesday
.