Today's recipe for No-Bake Honey Cheesecake is a simple dessert perfect for summer.
Long time readers will know that I love desserts. LOVE them! I will take a dessert over a meal anytime. Not that it is a healthy thing to admit. Or that I am proud of it. But I totally have a sweet tooth.
I know though that everything needs to be in moderation. Especially when it comes to things like sugar.
I am not going to call today's dessert healthy. Honey is sugar, but I do think this is healthier than a lot of cheesecake recipes. It is simple. It contains basic ingredients. It is also delicious.
The honey in this gives it great flavor. It is not overly sweet, but the flavor and sweetness of the honey is there.
I served this recently with some fresh fruit that I had, but you could easily serve this with peaches, raspberries, or whatever your favorite fruit is to use for cheesecake.
One of my kids skipped the fruit and covered it in chocolate. Not exactly healthy, but delicious.
Because several in my family eat gluten free I made this crustless. I often do that with cheesecake. If I have would have had enough gluten free graham crackers on hand I would have made a graham cracker crust. But I didn't and crustless was delicious as well.
For individual cheesecakes make them in small jars or ramekins.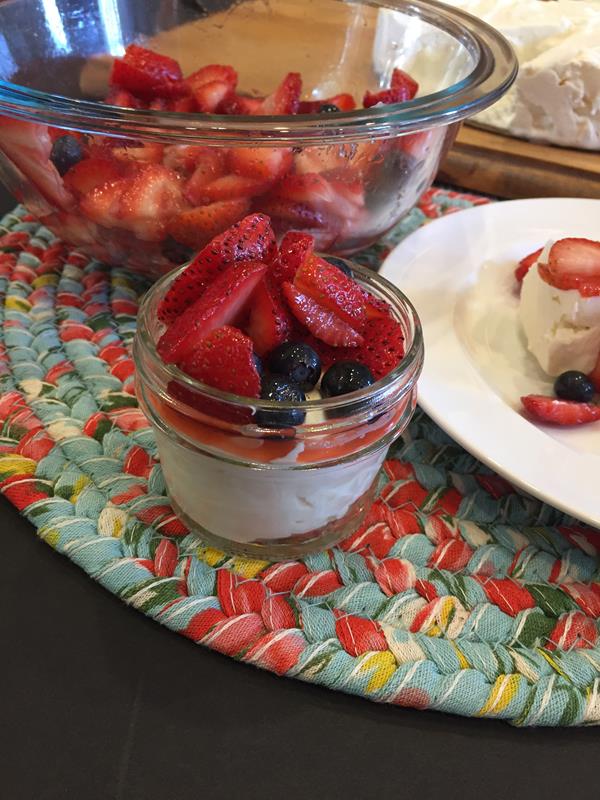 N0-Bake Honey Cheesecake
prepared graham cracker crust in a 9 inch pie or springform pan
2- 8 ounce packages cream cheese, softened
1/3 cup honey
2 teaspoons lemon juice
2 cups heavy whipping cream
Fruit or desired topping
In a mixing bowl beat cream cheese, honey, and lemon juice until smooth.
Gradually add whipping cream and beat until stiff and thickened. This will take 4-5 minutes. You want it whipped well.
Spread into prepared crust. Refrigerate for several hours or overnight.
Serve with fruit or your favorite topping.
Note: For a gluten free version make cheesecake crustless or use gluten free graham crackers or cookies to make the crust.