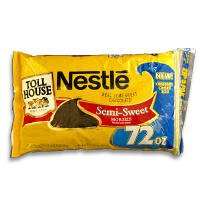 If you are shopping on a warm day, and Sam's Club is your first stop, do not buy a big bag of chocolate chips. They will melt and when they cool they will form a big blob of chocolate. Not very usable for chocolate chips cookies.
I usually bring several coolers with me. Today I forgot and only had a cooler bag. I placed my cold products in that cooler bag, but could not fit my chocolate chips. I should have waited until next time to buy the chocolate. I need to remember this for next time.
Has anyone else done this before?