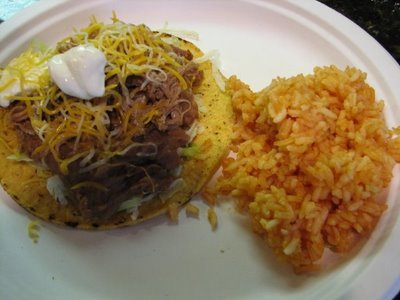 I love the Pioneer Woman's Spicy Shredded Pork. I know that I have mentioned this before. But I wanted to mention again why this recipe works so well for me.
This recipe has become one of my favorite ways to cook pork roast. I have used this recipe several times to serve a large group of people. It works great. Here is what I do.
We use the meat to make tostadas. I make the meat just like the Pioneer Woman's recipe, except I cook it in the crockpot. I shred the meat and pour the juices over top of it. I also make homemade refried beans. (Or I have a guest/friend bring them like I did a few weeks ago).
I take tostada shells, shredded cheese, shredded lettuce, meat, beans, sour cream, salsa, and whatever else you like on tostadas. I set everything up buffet style. This way everyone can use whatever toppings, in whatever order they like. I also like to serve my mexican rice as a side dish to these tostadas.
Every time I have served these they are a big hit. Everyone loves them.
I think this is an easy, yet very good meal to serve when entertaining. It is also a pretty frugal recipe to serve a large group. I have found that about 6lbs of meat will serve at least 15 people when served this way.
So whether you are serving dinner to your own family or having some friends over, this recipe works well.