I love this Oil Sprayer. I have had several brands of them, but it is the overall idea that I love. They are so easy and so much healthier than this: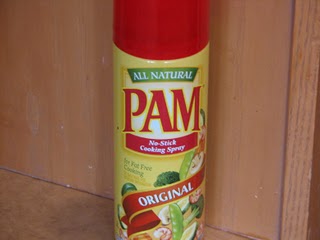 I do keep Pam spray on hand for a few jobs. But it is full of a lot of chemicals. I have asthama and so do two of my kids. Using a tool like this helps keep the smells out of the air in our house. In fact the few times I do use Pam I take it outside to spray it so that I do not have a coughing attack. So this tool is great to use in our house.
My one complaint with these sprayers are that they do get clogged after a few years. I think I have had three over the last 8 or more years. But when you figure a bottle of Pam costs several dollars I think that it is still a good deal to use these.
Does anyone else use one of these oil sprayers?
For more great kitchen tools see Life as Mom.