This easy One Pot Spaghetti Recipe is a delicious dinner that will be on the table in less than 30 minutes!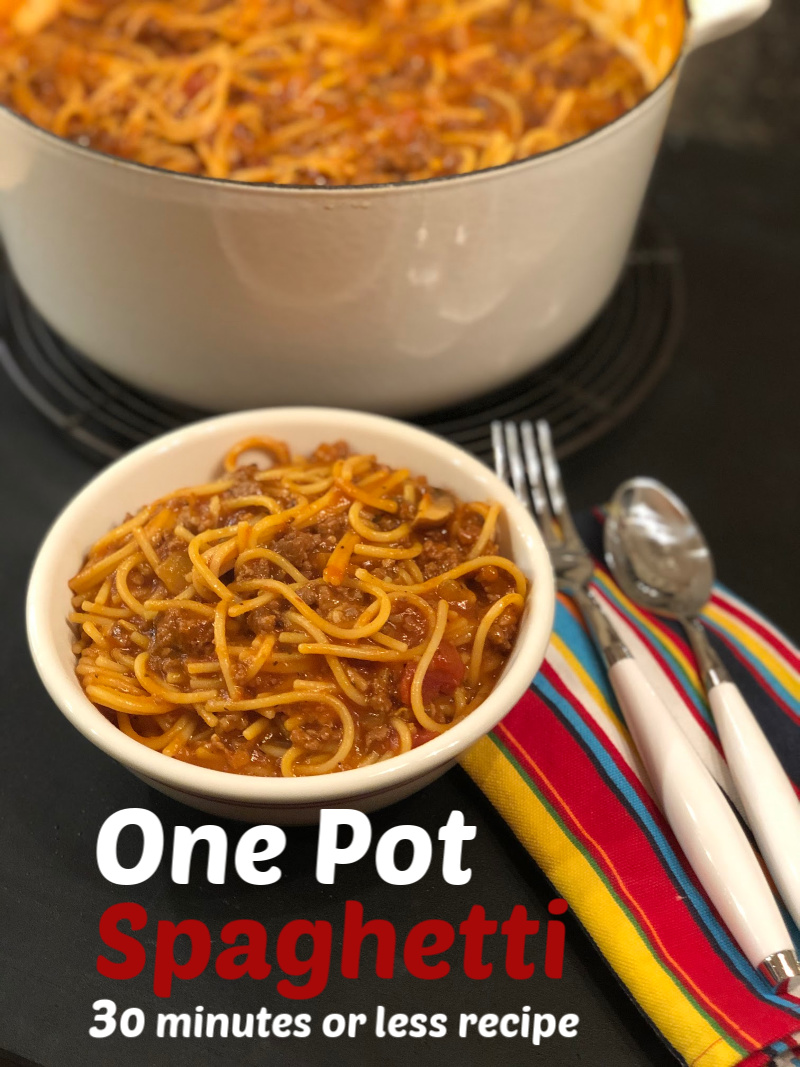 If you have read my site for long you know that I love quick and easy recipes. I love to cook and spend all day in the kitchen, but the reality is that my day to day recipes need to be quick and easy.
I first heard about one pot spaghetti when Laura at Organizing Junkie had a recipe for it on her menu plan.
I was intrigued with the idea, but I knew it needed to be adapted to fit my family's likes and tastes. That was over ten years ago.
Long time readers might remember when I first shared this recipe way back in 2010. It has been a favorite with my family and readers since then.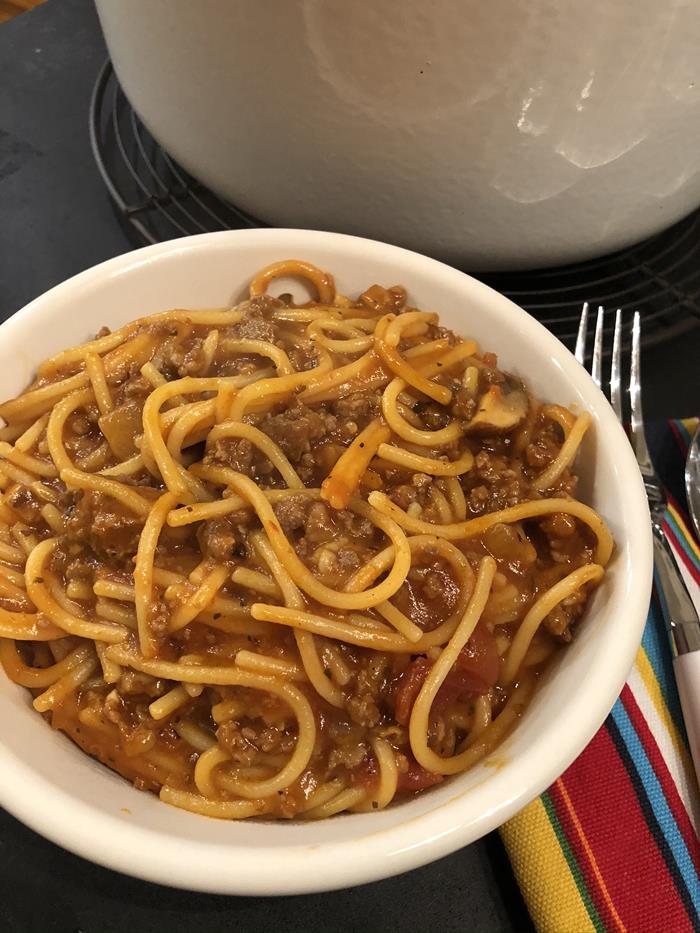 In the time since I first shared this recipe, one pot spaghetti and one pot recipes have gained in popularity. Cooking dinner in one pot makes not only the cooking part easy, but also the clean up.
The fewer dishes that we have to wash the better!
Ten years ago I took the basic idea, and changed quite a few things to make it fit our needs and tastes.
This recipe has become a reader favorite since I first shared it years ago.
Quick and easy recipes that use basic ingredients are what most of us need for busy weeknight dinners. I can see why so many readers have loved this recipe.
Since I still make this recipe all the time I decided it was time for a quick update. The actual recipe is still the same. I make it the same way I made it ten years ago. The pictures though were long overdue for an update thought.
I love hearing from long time readers, so if you have made my One Pot Spaghetti Recipe before I would love to hear your thoughts. You can rate the recipe or leave a comment letting me know.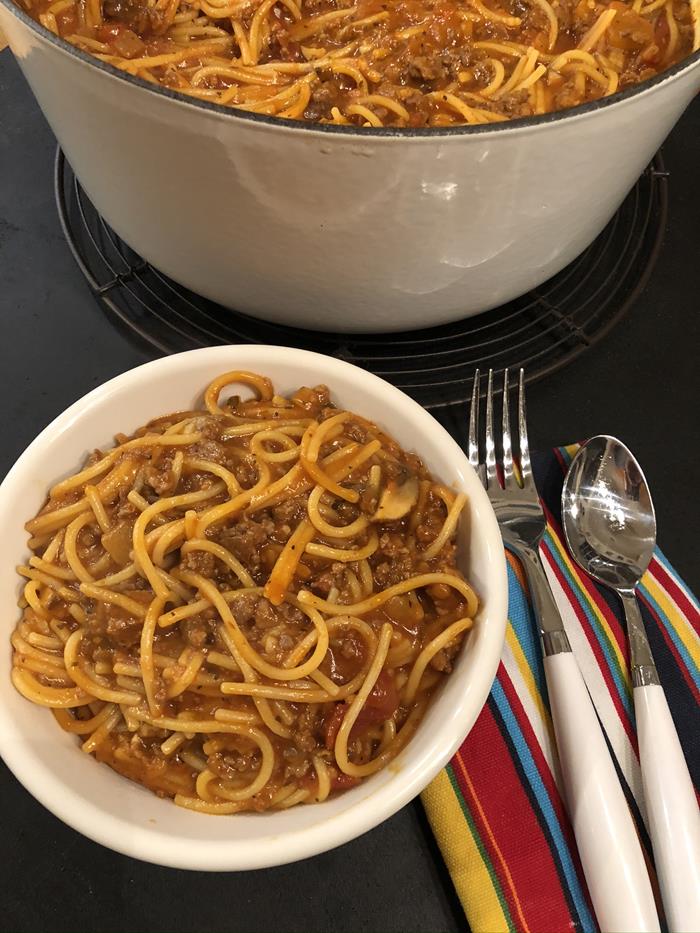 Ingredients Needed For One Pot Spaghetti
Ground Beef or Sausage – Either one works. Use what you have or can get on sale.
Spaghetti Sauce – The original recipe I saw years ago had you using tomato paste and water, this would work, but I thought I would get much better flavor from using a jar of spaghetti sauce. A jar of spaghetti sauce makes it easy and flavorful. Plus I almost always have a jar of spaghetti sauce on hand.
Mushrooms – I also changed it and used fresh mushrooms instead of canned, you can leave the mushrooms out all together if you don't like them.
Onion
Garlic
Chicken Broth
Water
Spaghetti- Gluten free pasta works
Parmesan Cheese – Optional but really good.
Can I Make One Pot Spaghetti Gluten Free?
Yes, you can. I make it gluten free all the time. Use your favorite gluten free pasta and read labels to be sure your ingredients are gluten free and you will have an easy one pot gluten free dinner.
Yield: 8 servings
One Pot Spaghetti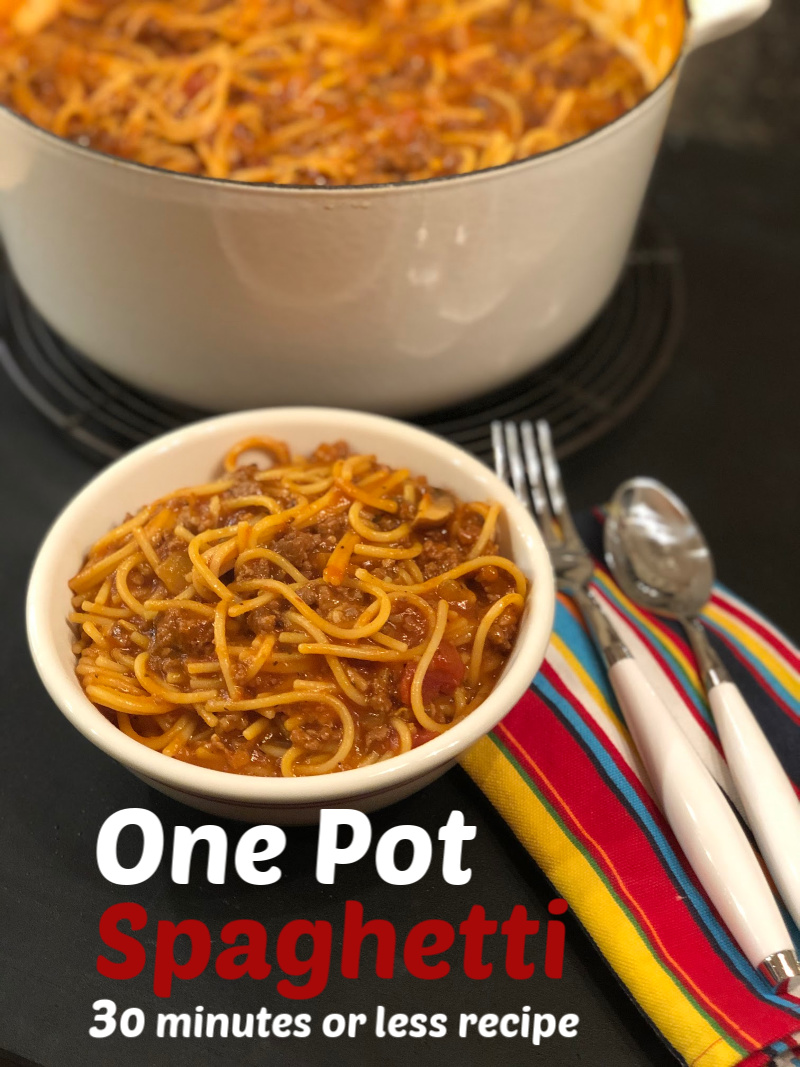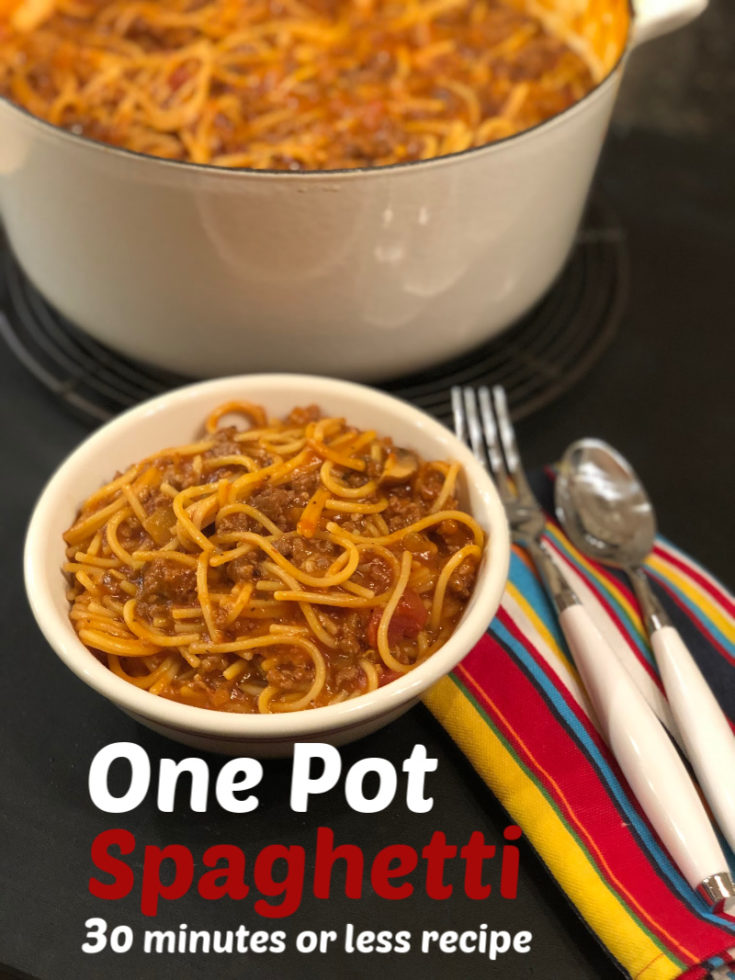 One Pot Spaghetti is a quick and easy dinner. It uses basic ingredients and can be made in 30 minutes or less.
Ingredients
1 lb ground beef or sausage
8 ounce fresh mushrooms, sliced
1 onion, finely diced
1 clove garlic minced
1 14 ounce can chicken broth (or homemade)
1 - 26 ounce (or so) jar of spaghetti sauce
½ cup water
8 ounces uncooked spaghetti, broken into pieces, gluten free pasta works great for a gluten free version
¼ cup grated Parmesan cheese
Instructions
In a large saucepan cook meat and onion until onion is tender and meat is browned.
Drain any fat off and return to pan.
Add mushrooms and garlic and cook until mushrooms are tender.
Add broth, spaghetti sauce, and water and bring to a boil.
Add noodles and reduce heat.
Cover and cook 17-20 minutes or until noodles are tender. You will need to stir this occasionally and add more water if necessary. Some brands of pasta, especially gluten free pasta may need an extra 1/4 cup or so of water as it cooks.
Stir in Parmesan cheese if using.
Serve and enjoy!
Notes
To make this gluten free use gluten free pasta and read labels to be sure the ingredients are gluten free.
Nutrition Information:
Yield:
8 servings
Serving Size:
1
Amount Per Serving:
Calories:

552
Total Fat:

21g
Saturated Fat:

6g
Trans Fat:

1g
Unsaturated Fat:

11g
Cholesterol:

68mg
Sodium:

2258mg
Carbohydrates:

61g
Fiber:

10g
Sugar:

23g
Protein:

28g
Originally posted November 2010. Updated March 2020.