One Pot Taco Pasta is a quick and easy recipe that you can get on the table in no time. One of the best parts about this recipe is that it only uses a few ingredients.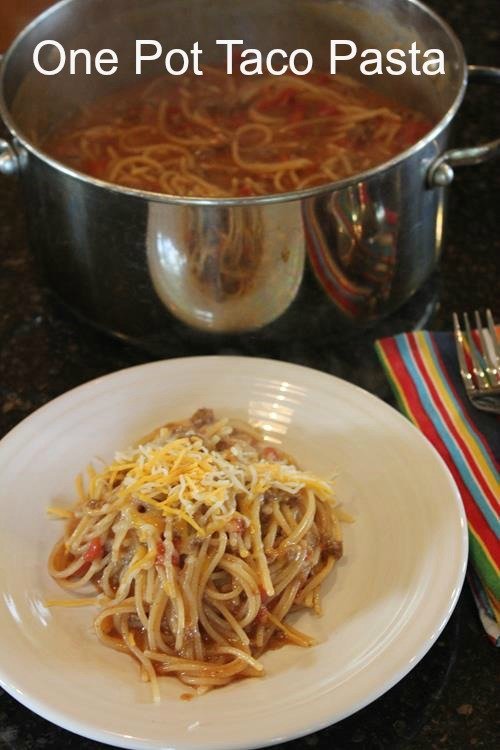 Can you ever have too many quick and easy recipes? I don't think so. Especially recipes for quick and easy dinners that use five ingredients or less. Add in the fact that it can be made in one pot and you have a winning recipe.
I love one pot dinners because they are not only quick and easy to make, they are also quick and easy to clean up because you only dirty one pot while cooking.
This is also an easy meal to make gluten free using gluten free pasta.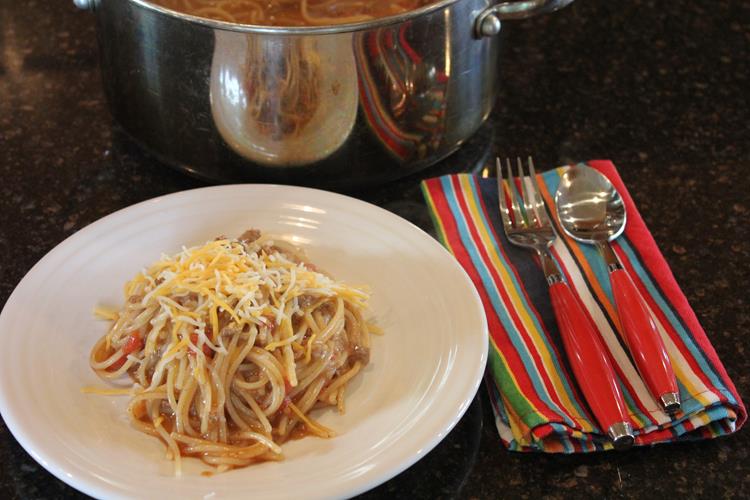 One Pot Taco Pasta
1 pound lean ground beef
1 package taco seasoning or use homemade taco seasoning (If you are gluten free be sure it is gluten free)
2- 14 ounce cans diced tomatoes
2- 14. 5 ounce cans chicken broth
12 ounce uncooked spaghetti
1/2 – 1 cup shredded cheddar, jack, or other cheese for sprinkling on top, (optional)
In a large skillet or pan cook ground beef until browned and no longer pink. Drain off any fat.
Add taco seasoning, undrained tomatoes, chicken broth, and spaghetti to the meat.
Bring to a boil and stir.
Reduce heat to a simmer and cook 10  minutes or until spaghetti is tender and liquid is absorbed. Stir occasionally while pasta is cooking.
If desired serve with cheese sprinkled on top.