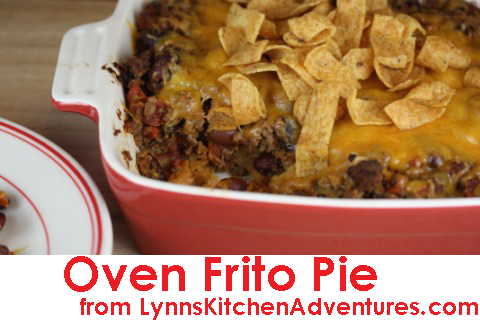 Is your family tired of Thanksgiving leftovers?
If so I have the perfect recipe for you. Make a big pot of chili tonight for dinner and you can easily put this together for a quick dinner tomorrow night.
Shortly after I moved to Oklahoma, I learned that chili and Fritos go together, at least people in this part of the country think they do. And after years of eating chili this way, I have to agree that chili and Fritos makes a great combination.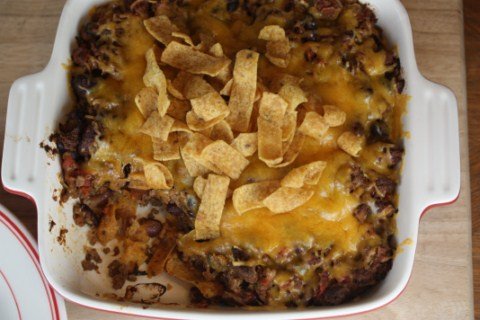 Usually chili here is just served with Fritos or you layer Fritos in the bottom of you bowl and pile chili and cheese on top. For this recipe today I changed it up a little. It is the same idea yet a different take on it.
I turned the classic chili and Fritos combination into an easy oven meal.
And this is a fun way to use up, and change up, leftover chili.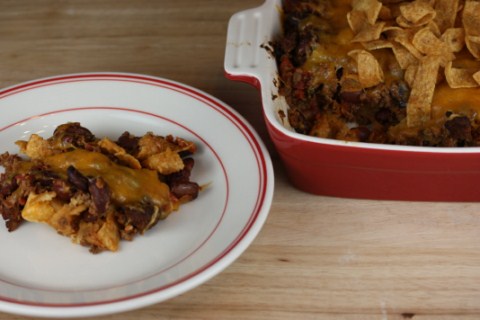 Oven Frito Pie
4-6 cups of leftover chili
3-4 cups Fritos (Plus a few more for serving)
2 cups shredded cheddar cheese
In the bottom of an 8×8 pan or similar size dish place about half of the Fritos.
Layer half the chili on top and half of the cheese.
Layer remaining Fritos, remaining chili, and remaining cheese.
Bake at 375 degrees for 20-25 minutes or until heated through.
Sprinkle with more Fritos before serving.
Enjoy!