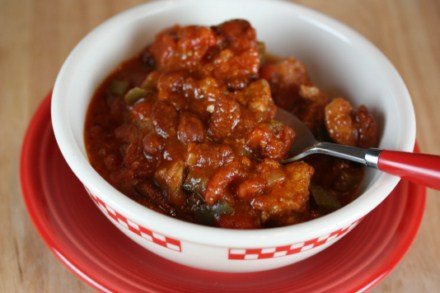 Today for Souper Mondays we are talking chili.
I think my husband may have a new favorite chili. I made this recently and he loved it and so did the rest of the family. This time of year we eat a lot of chili and using a pork roast in chili made for a nice change.
Now, I know not everyone has a freezer full of pork like I do, but if you find a good sale on pork roast, this would be a great recipe to try. It really is a fun change from just a basic chili.
Have you tried pork in chili before?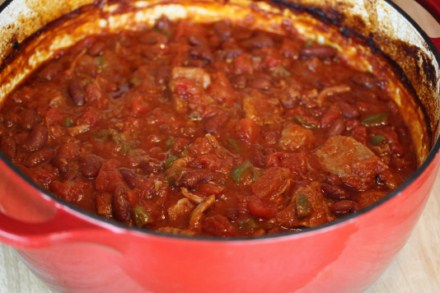 Oven Pork Chili
2 tablespoons oil
3 lb pork roast, fat trimmed and cut into ½ inch cubes ( I used a pork shoulder roast)
2 cloves garlic
1 onion, diced
1 green pepper, finely chopped
1 tablespoon chili powder
1 ½ teaspoons dried oregano
¾ teaspoon ground cumin
¾ teaspoon salt
3- 14 ounce cans diced tomatoes
2- 8 ounce cans tomato sauce
2 – 15 ounce cans kidney beans, rinsed and drained
In an oven proof pan heat oil. Add onions and green pepper and cook until tender.
Add cubed pork and brown pork on all sides.
Add remaining ingredients and stir.
Cover and bake at 350 degrees for 2 ½ -3 hours or until the meat is tender.
Serve with a little shredded cheese and enjoy!
The leftovers, if you have any, freeze well.