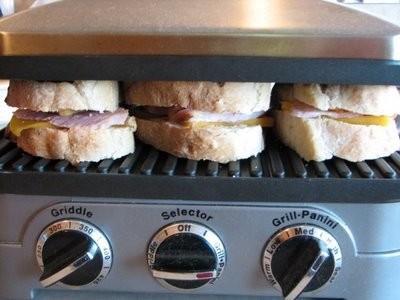 When I posted about my tuna panini I received a question about panini grills, so I decided it was a good time to post my thoughts on it and why it works for me.
Quite a few years ago my mother in law gave me a George Foreman grill. I used it quite a bit, but after only a short time the non-stick coating wore off. I liked the idea of an indoor grill like this, but I knew I wanted a different brand. I searched around and checked reviews and I ended up with a Cuisinart GR-4 Griddler
and I love it. I have had it for at least three years and I use it quite a bit.
My favorite thing to make on it is panini sandwiches. We love them. We usually make ham and cheese or bacon and cheese. In the summer we also put tomatoes on them. They are so good and so easy for a quick summertime dinner.
I like to make panini sandwiches using either my Artisan Bread or my Foccacia recipe. They both work really well and it is a great way to use up leftover bread. You need to use a  pretty sturdy bread to make panini. French bread flattens out quite a bit so an Artisan style bread works better.
You can easily make sandwiches like this on a regular griddle or grill pan. However, I think a grill like this works best . It cooks the sandwich from both sides. It also puts pressure on the sandwich that flattens it a little bit and gives it that panini look and grilled taste.
The one disadvantage to a panini maker it the size. I am noticing this more the older my kids get. I used to be able to make enough for all of us by just filling the grill once. Now it takes me twice to make enough for everyone. However, since this cooks quickly it does not take to much longer.
You can cook other things on this grill, but paninis are what I use it for the most.
Do you make paninis? What kinds do you make?