This is what we had for dinner last night.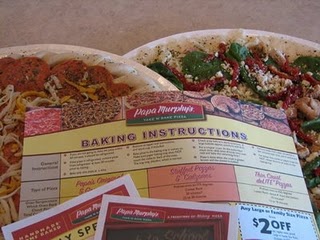 My menu plan for the day did not goes as planned. I had one of those days that I was glad for take and bake pizza. I forgot to defrost the pork roast that I had planned to put in the crock pot for dinner. I could have tried to figure out something else to cook, but I just didn't. I just didn't want to cook dinner last night.
We had a busy day trying to get school done, which seemed to take longer then usual. Than I had to take my daughter to the eye doctor. All five of us now wear glasses and/ or contacts, plus my kids eyes are changing so fast that they have to go every six months. They know us well at the eye doctor. But back to pizza. After the eye doctor we had to go to the post office and the pharmacy, then back home, eat, and try to make it to church in time for our Wednesday night prayer meeting.
Between all of that, I just did not want to think about what to cook for dinner. There is a Papa Murphy's take and bake pizza not far from the optometrist's office, so I picked up pizza for dinner. My kids were thrilled because we had not had take and bake pizza for a while. We don't eat out that much and we live to far out in the country for pizza delivery, so this was a treat for the kids.
I think we all have days like I had yesterday. I am just glad that there is such a thing as take and bake pizza. I don't think I would have done well in pioneer times. But I really should put some more meals in the freezer for days like this.