This is a recipe that my mom made all the time when I was growing up. We always called it peach cobbler. It was not until I was married and had other versions of this dessert, that I realized it is really a version of the dump cake that many people make.
This dessert is easy and frugal, yet really good. It is one of those simple desserts that everyone enjoys. I also like this recipe because I usually have all the ingredients in my pantry. This is one of those recipes that I can put together when I need a last minute dessert.
If you serve it with whipped cream or vanilla ice cream it makes it even better.
Saturday I will post how I adapted this to be gluten free.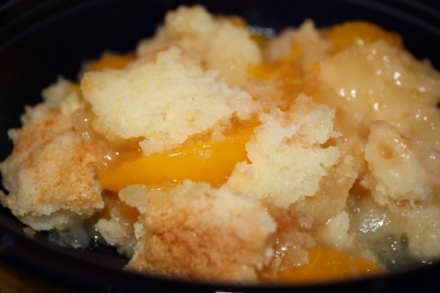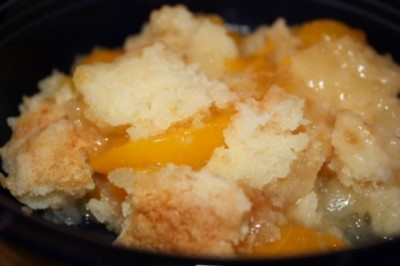 Peach Cobbler Dump Cake
1  29 ounce can sliced peaches with the juice
1 yellow cake mix
½ cup butter, melted
1 cup nuts, chopped (optional, I usually leave them out since my kids do not like nuts)
Place peaches and juice in a 9×13 pan. Sprinkle dry cake mix over peaches. Carefully spoon melted butter over cake mix. Sprinkle with nuts if using them. Bake at 325 for about 45-50 minutes. Serve warm or cold.