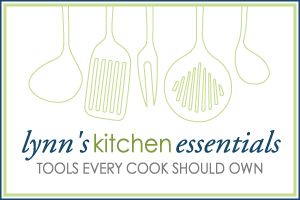 When I started thinking about the most used tools in my kitchen, I immediately thought of my knives. There are many days that I do not use my mixer, my blender, or my crockpot, but rarely is there a day that I do not use my kitchen knives.
I don't even know how many times a day I use them, but I know it is a lot. I use them to cut fruits and vegetables for my kids breakfast and lunch. I use them to slice cheese for sandwiches. I use them to slice meat and chop onions for dinner. I use them to cut desserts. I really think I use my knives more than any other tool in my kitchen.
For years though I had cheap, flimsy, and dull knives. They really were pretty bad. I had a mixed matched set of knives that I picked up here and there. They were hard to sharpen, would not sharpen well, and if you could get them sharp, they would not stay sharp. Not only that several of them had thin blades, so they would easily bend when I was using them. I knew they did not work well, but I just kept using them.
Nice knives were something I had wanted for a long time, but did not want to spend the money. I did not think expensive knives would make much difference. After all a knife is a knife, right? or so I thought.
Two years ago for my birthday, my husband got me knives and they were nice ones. After I used them once, I was amazed at how much difference these knives made, and after just a few days of using them, I was sold on the importance of high quality kitchen knives. These were so sharp and sliced through things so easily. Overall they worked so much better than any other knife I had ever used.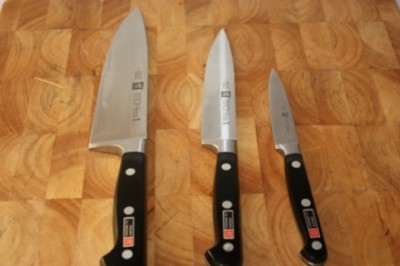 I have heard that you are more likely to cut yourself with a dull knife then a sharp one. After using these more expensive and much sharper knives, I agree. They don't slip around at all. Instead they easily slide through what ever you are cutting. I feel much safer using these than any other knife I have had.
I will admit these were an investment, but one I wish I had made many years ago. We bought these on sale at Macy's and we still paid over $150 for these three knives, but these are something I will have for years. We bought the JA Henckels knives, and I expect to be using these for a very long time.
If you are needing new knives, I don't think you need to buy a whole set at one time. Just buy one really nice knife in the size you use the most. Then you can add to it as you can. We started out with these three knives and have since added a bread knife and one other knife to our collection. So, if you are starting a collection of nice knives, start with just one basic knife in the size you use most and add more knives later on.
One tip I have when picking out a knife, is to make sure it fits your hand and feels right. My husband let me pick out my knives and I am glad he did, because we did not agree on which ones we liked. The ones he was going to get did not feel right in my hand. The shape and weight of the handle was just not right. I have really long fingers and what fits my hand may not fit the hand of a petite person or a man's hand. If you are going to invest money on high quality knives, you want to make sure they will work well for you. Make sure to buy the size and shape that works best for you and your needs.
I doubt you will regret it if you invest in a high quality kitchen knife. It is one of the best investments that I have made in my kitchen.
So, do you agree with me? Do nice knives make a difference?