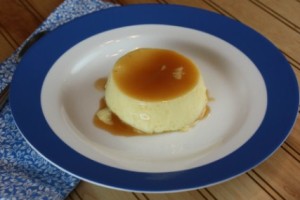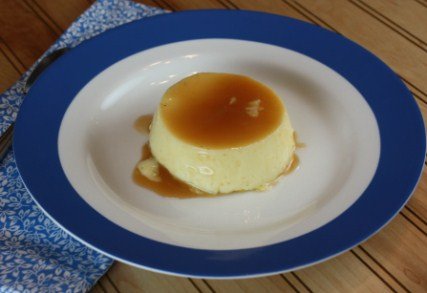 Flan is often thought of as a time consuming and difficult dessert to make, but the flan recipe that I have for you today is so quick and easy that it is pretty much foolproof. This caramel flan is an impressive dessert that anyone can make.
Quick and Easy Caramel Flan
5 eggs
1/2 cup sugar
1 teaspoon vanilla extract
dash of salt
2 1/2 cups milk
2 -3 tablespoons (or so) caramel ice cream topping
In a bowl beat eggs. Add sugar, vanilla, and salt. Whisk together and slowly add milk until well combined.
Divide the caramel sauce between 6 ramekin or custard cups. (If you do not have ramekins you can use small jars but this recipe may not come out of jars quite as well.)
Place custard cups in a 9×13 pan and divide egg/milk mixture evenly among the cups.
Fill 9×13 pan with about 1 inch of hot water. You do not want to pour this in the custard cups, just the outer 9×13 pan part. You are creating a water bath here.
Bake at 350 degrees for 30-35 minutes or until center is almost set. You want this to be slightly jiggly in the center.
Remove custard cups carefully from water bath and let cool.
Once cool, refrigerate for several hours. Once chilled completely through,  carefully invert custard cups and unmold the custards onto a plate.
Serve and enjoy!
Adapted from Quick Cooking