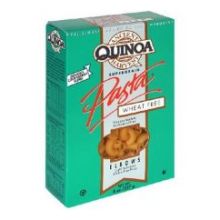 I have tried a wide variety of gluten free pastas including corn, quinoa, brown rice, and others. Many of the ones I have tried have been quite a disappointment. Some of them were just plain awful and ended up in the trash.
So far my favorite brand has been Tinkyada brown rice pasta. For things like spaghetti, spaghetti carbonara, my taco pasta, and other pasta dishes, I love the results I get with Tinkyada. In fact my husband says it is better than the whole wheat pasta that we used to eat.
My one complaint with the brown rice pasta though is that it is not nearly as good leftover. The texture is just not the same the next day even with the Tinkyada brand. For this reason I have avoided making things like pasta salad with the gluten free pasta.
Recently though after talking about gluten free pasta with a friend, I decided to give quinoa pasta a try again and use it in pasta salad.
I was really happy with the result. The quinoa pasta worked great. It was much better leftover and cold in a pasta salad.
I still think Tinkyada will be my favorite choice for most things, but I think for pasta salads and other similar dishes Quinoa pasta will be my first choice.
What are your thoughts on Quinoa Pasta?