This post is not about food or recipes. This post is about real life. This post is in honor of my husband's grandmother.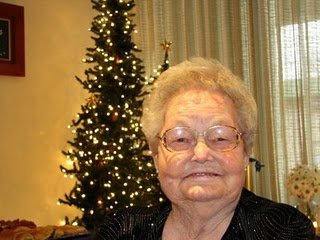 My husband's grandmother Zoie Opal passed away over the weekend. She was 87 years old and had been in poor health, but I don't think you are ever totally prepared to lose a loved one. She leaves behind a husband, three children, seven grandchildren, thirteen great grandchildren, and two great, great grandchildren.
I think the hardest part of what she leaves behind is her husband. They had been married for 70 years, it would have been 71 years in December. This picture is from their 70th anniversary party last year.
Their life had many ups and downs but they stayed together through it all. In a time in our society where many marriages don't make it past 10 years and few make it past 25, this is quite an example. After 70 years of marriage her husband is lost without her. He doesn't know a life without her in it. I can't even begin to imagine what it would be like to lose a spouse after 70 years of marriage.
I am so glad I was able to get to know my husband's grandmother. I have many good memories of her. I am also so glad that my children were able to know her and that they are all old enough to remember her.