We bought this piece of furniture several years ago at an antique store. Both my husband and I really like it. It was used as a wardrobe. I am guessing it was used in an entryway of a house for coats and outerwear. It still has the original bar and hangers attached inside.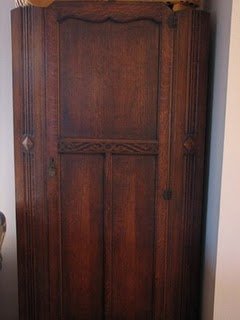 We wanted it to be more functional so we put shelves in it. We put these in it, in a way that does not harm the piece. It is a free standing shelf unit that can come in and out. We used this piece for several years in our bedroom to store clothes in instead of a dresser.
We recently moved some furniture and kitchen items around. We decided to give this piece a new use.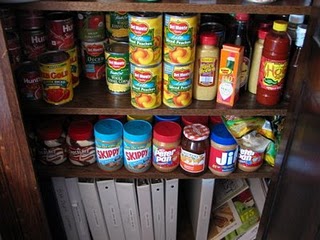 I do not have a very big kitchen and do not have much storage space. This piece now holds a lot of my canned goods and other items. It is not in my kitchen but it still works great for these items. I was able to fit a lot into it. This allowed me to have more room in my kitchen for storage. I love my new use for this piece.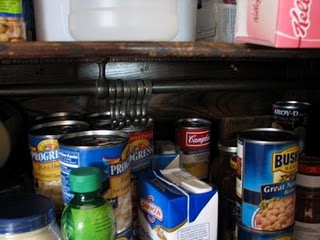 See the original rod is still in place.
For more antique and unique items see Antique Thingie Thursday and Show and Tell Friday.