I am posting about one of my favorite kitchen tools this week. It is my crockpot. A crockpot is a pretty basic kitchen tool, so why am I posting about it, because mine broke.
Actually, one of my crockpots broke. I have two crockpots. One is a four quart and the other one is a six quart. I like the flexibility of having two sizes. Most of the time I use the four quart, but there are times that I need a bigger one than that. When this happens, I use my six quart one. Well, my four quart crockpot broke, and I knew I would miss having that size. So, I decided to start looking for one.
I have had my four quart one for at least six years. My six quart crockpot I bought about two years ago. So, I had no idea how many sizes, shapes, colors, and features on crockpots that there are now. What happened to the simple basic crockpot?
There was a couple of things that I decided I wanted in my new crockpot. So, I am glad that a few of the features were available. My six quart crockpot has a timer that switches the temperature to warm when it is done. I really like this feature and wanted it in a my new one if I could find it. I also wanted a round crockpot that I could fit a bowl into to make my crockpot grits. And finally I did not want a white crockpot.
After looking around for a while I found this one.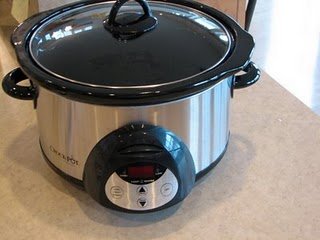 It is a five quart one that my bowl for crockpot grits fits perfectly in and it has a timer with the stay warm feature. I found it at Walmart for a price that I was happy with.
For more great tools see Life As Mom.