Refrigerator pickled peppers are delicious straight from the jar, used on top of pizza, or served in sandwiches. They also work perfectly with all kinds of Mexican foods like nachos and tacos.
When I got home from vacation a few weeks ago I had a bunch of peppers that needed used up. I did not have a lot of time to deal with them, so I wanted something quick and easy I could use them in.
My family loves the jars of pickled peppers that you can buy, so I started thinking of ways I could do a homemade version. I knew I could can them, but I really didn't have the time and I have already admitted that canning is not my favorite thing to do, so I really wanted to avoid that if I could.
I have made refrigerator pickles many times, so I thought I might be able to give refrigerator pickled peppers a try.
I searched online, and in a few cookbooks on canning that I had, and found several recipes, so I knew it could be done. However, I did not have all the ingredients for the recipes I found. I did have the basic ingredients like vinegar, water, and salt, so I knew I could easily make it work.
So, basically I took ideas from a wide range of recipes and put together my own version of refrigerator pickled peppers.
The first batch I made I used only banana peppers. We loved them. I even loved them and I don't like really spicy food. So that tells you that they were not that spicy. Which was the exact complaint I got from some in my family. They loved them, but wanted more heat to them.
The next batch I made a few jars with just jalapeno peppers and my husband loved them. The first night I served them with dinner he ate almost half a jar. For the rest of the family they were too hot. Like really too hot.
The too hot may be because these jalapeno peppers were from our garden and it is hard to control the heat of them. Sometimes they are really hot and other times they are not. These that I used were really hot. Next time I make a jar I think I will combine both banana peppers and jalapeno peppers to hopefully get more of a medium heat to them.
So the type of pepper will depend on how hot these are going to be. Make them how you like them. If you have peppers in your garden or have a lot of peppers to use up this is a simple and delicious way to use them up. I will be making lots of jars of these over the next few months.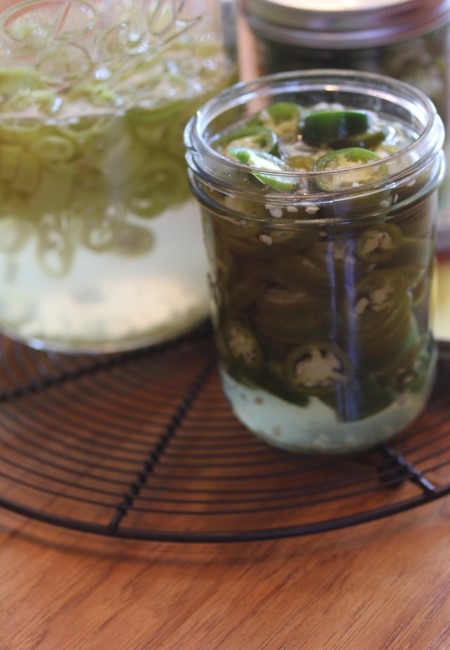 Yield: 16 servings
Refrigerator Pickled Peppers
Pickled peppers are easy to make at home with these refrigerator pickled peppers.
Total Time
1 day
15 minutes
Ingredients
1 cup water
1 cup distilled white vinegar
2 tablespoons sugar
1 tablespoon kosher salt
3 cloves crushed garlic
10 or so banana peppers or about 15-18 jalapeno peppers, cut into rings (Basically you need several cups of peppers and it does not have to be exact.)
Instructions
In a pan combine water, vinegar, sugar, salt, and garlic. Bring to a boil and stir for 1 minute or until sugar dissolves.
Place peppers in a glass jar or bowl.
Pour hot mixture over peppers.
Let cool to room temperature.
Cover and refrigerate for 24 hours before eating. You can eat these at about 24 hours, but my family likes them best 2-3 days after I make them.
These should keep up to 3-4 weeks in the refrigerator.
Nutrition Information:
Yield:
16
Serving Size:
1
Amount Per Serving:
Calories:

36
Total Fat:

0g
Saturated Fat:

0g
Trans Fat:

0g
Unsaturated Fat:

0g
Cholesterol:

0mg
Sodium:

249mg
Carbohydrates:

7g
Fiber:

3g
Sugar:

4g
Protein:

1g
Nutritional values are approxomite and aren't always accurate.