Today's kitchen tip is such an easy tip, but it will save you so much time in the kitchen on Thanksgiving Day. This is a tip I learned from a friend at church quite a few years ago.
This friend makes that best mashed potatoes. She brings a large bowl of them to almost every church dinner and they are always a hit. One Sunday I asked her how she managed to make up such a large pot of mashed potatoes all the time to bring to potluck dinners. She answered by saying that she did most of the work ahead of time.
She told me that she did all the peeling and cutting ahead. She then put them in a pot and covered them in water and left them to sit in the fridge until she was ready to use them. Then when she was ready to cook them, she set them on the stove, heated them up, and cooked and mashed them.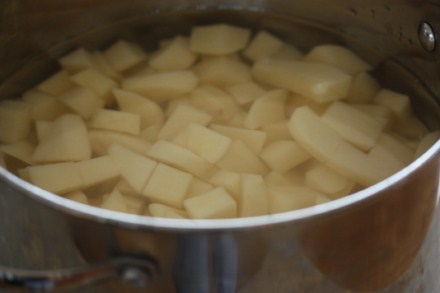 By doing the time consuming part of peeling and cutting the potatoes ahead of time, she saves a lot of time the day she needs them. And by covering them completely in water, she keeps them from turning brown. I loved this idea, because peeling potatoes is not my favorite job to do, especially in the middle of trying to prepare a meal like Thanksgiving dinner.
I also love this because it is an easy job to give the kids ahead of time. They can easily peel and even help cut the potatoes the day before or the morning of the day you need them. You can cover them in water and cook and mash when needed.
I have used this tip many times now and it saves me so much time during the holidays, and during those times where I need a large batch of mashed potatoes.
It is simple tips like this that make holiday dinners so much easier.