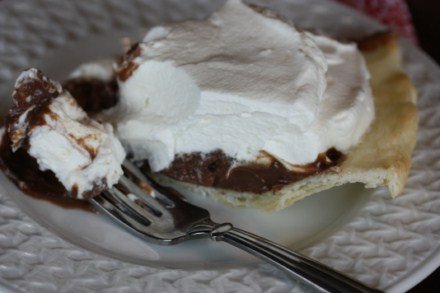 Chocolate cream pie is one of my all time favorite pies. I mean what can be bad about chocolate and cream together in a pie. They just go so well together.
This chocolate cream pie recipe is adapted from a Martha Stewart Recipe
and it is so good!
I mentioned earlier this year how much I loved Martha Stewart's Pie Book. Well, I can still say I love this book. I have yet to try a pie recipe out of it that we have not enjoyed. Some of the recipes are a bit complicated, but most of the recipes are simple and classic pies like this chocolate cream pie today.
I have made many chocolate cream pies over the years, and this is my new favorite. In fact, I have made it twice in the last few weeks, and I might just make another one for Thanksgiving. This was really that good.
Chocolate Cream Pie
1 pre baked pie shell (I used my gluten free pie crust recipe)
2 ½ cups milk
4 ounces of chocolate chips
½ cup sugar
¼ cup cornstarch
¼ teaspoon salt
1 teaspoon unflavored gelatin (optional but really helps it set up)
2 tablespoons water (optional, for gelatin)
4 egg yolks
1 teaspoon vanilla extract
For topping:
1 cup heavy cream
¼ cup powdered sugar
Directions:
Sprinkle gelatin in water and set aside.
In a small bowl whisk eggs and set aside.
In a saucepan heat milk and chocolate over medium high heat. Whisk constantly until chocolate is melted.
In another pan combine sugar, cornstarch, and salt. Slowly whisk in milk/chocolate mixture.
Cook over medium heat until mixture thickens. This takes 4-5 minutes.
Take 1 cup of pudding mixture and stir into egg yolks. Then add that mixture back to the remaining pudding in the pan.
Whisk over medium heat for 1-2 more minutes.
Remove from heat and stir in vanilla and softened gelatin.
Place pudding in a bowl and cover in plastic wrap. Place wrap directly on pudding so that a thick skin does not form. Let pudding cool and then place in a prebaked pie crust.
For topping:
Whip together cream and powdered sugar until stiff. This takes 3-5 minutes. Spread over pie and refrigerate until serving.
Adapted from Martha Stewart