Skip the can and make sloppy Joes at home with Martha Stewart's Sloppy Joes recipe.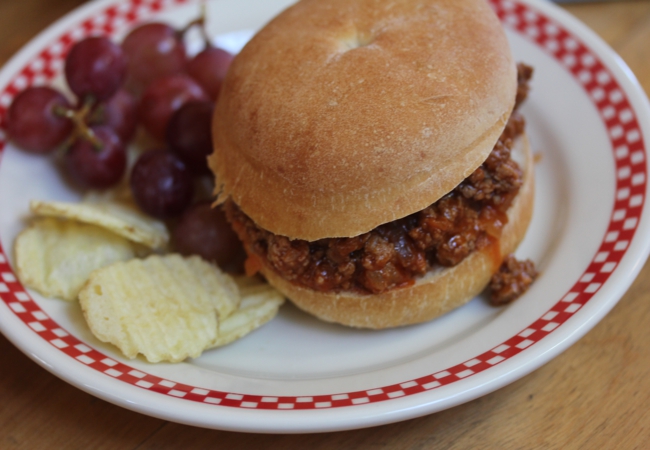 Sloppy Joes are a classic quick and easy dinner. And homemade sloppy joes are the best.
I know many of you buy that famous can of sloppy joes, but if you have never tried the homemade version, you need to. Really you need to.
They are so easy to make and so much better. Plus you know what goes into them and you can control the ingredients. The sauce also freezes great for an easy make ahead meal.
I have several recipes for sloppy joes on my site. I have a basic sloppy joes recipe, a crock pot sloppy joes recipe, a bbq sloppy joes recipe, and a cheeseburger sloppy joes recipe.
We love all of those, but I am always looking to change things up a little, so when I saw a recipe for sloppy joes in the cookbook Martha's American Food, I knew I wanted to give them a try for my Cooking Through My Collection Series.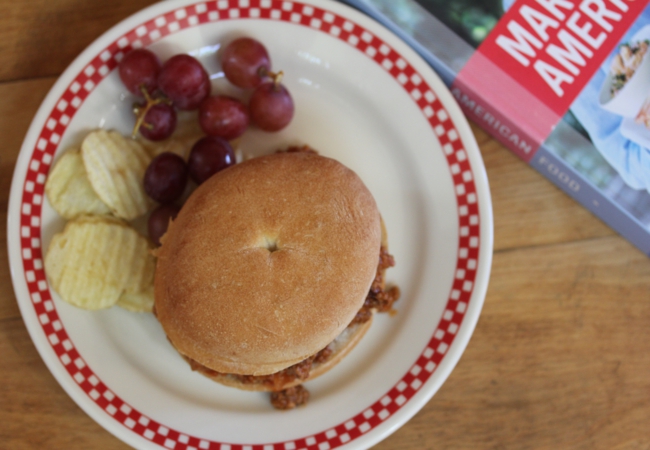 But before I share the recipe I want to talk a little bit about the cookbook it came from. My husband and kids got me this cookbook, Martha's American Food, several years ago as a gift. I instantly loved the cookbook, not just for the recipes, but for all the information and fun facts it includes.
This cookbook is full of American Classics from around the country. It is set up by region with each section of the cookbook featuring a different region of the country. Many of the recipes also contain a back story which gives facts about the recipe and where the recipe idea is thought to originate from.
The recipes in this cookbook are wide ranging and include many of the foods you think of when you think of American classics. It also contains a few recipes that I had never really thought about being truly American until I read the back story behind them.
If you love food facts or know someone that does, this Martha's American Food cookbook is worth looking at. It is an interesting and fun cookbook.
Now for the sloppy joes recipe from the book. We really liked these sloppy joes. They are a little different than any of my other sloppy joe recipes. My husband and I actually thought these tasted more like the canned sloppy joes than any of the other recipes I have made. I think those of you that love the canned sloppy joes will love these.
I did change a couple things about the recipe though. I used less water. I could tell these were going to be a little runnier than we liked so I decreased it. The amount I used is listed in the recipe below. If you like yours thinner, just add a little more water.
Martha's recipe also called for course salt and listed no amount. These need salt that is for sure. I added it to taste, which ended up being about 1/2 teaspoon so that is what I listed in the recipe.
I changed the tomatoes up slightly also. The recipe calls for a 14.5 ounce can pureed tomatoes. I could not find that size of can at the grocery store. I am sure it is out there, but I decided to use what I could find. Which ended up being 2 smaller sized cans. And instead of wasting the extra, because it was slightly more than 14.5 ounces, I just added it all in. It worked fine and tasted great.
Oh and one more thing. The recipe called for 1 1/4 pounds ground beef. Does anyone really buy a package that is 1 1/4 pounds exactly? That is one of those measurements that I think only a Martha Stewart recipe would use. Just saying. Since I did not have a package exactly 1 1/4 pounds, I used 1 1/2 pounds and again it worked fine.
And I guess all that proves that I have a really hard time following a recipe……but I am guessing I am not the only one with that problem.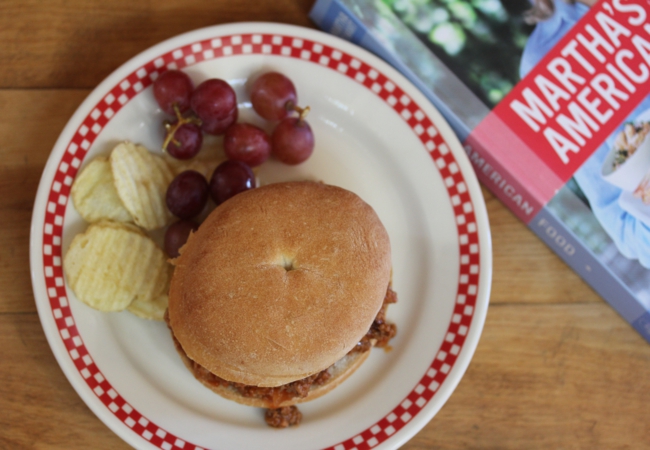 Yield: 6 servings
Sloppy Joes from Martha's American Food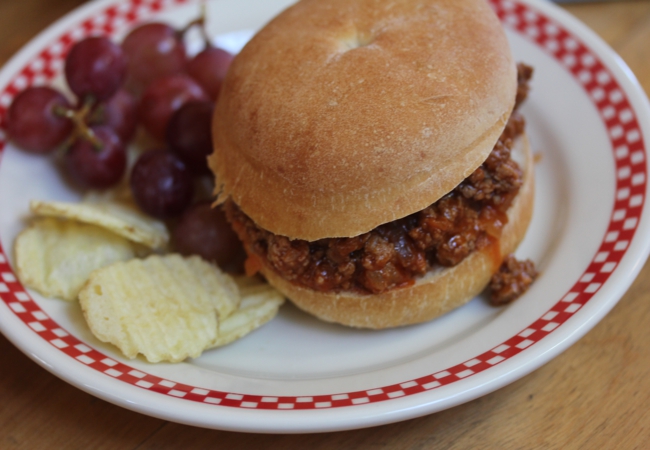 Skip the can of sloppy Joes and make them at home with this easy to make Martha Stewart Sloppy Joes recipe.
Ingredients
1 1/2 pounds lean ground beef
1 onion, finely chopped
2 cloves garlic, minced
1- 14.5 ounce can pureed tomatoes
2 tablespoons brown sugar
1 tablespoon cider vinegar
1 tablespoon tomato paste
1 teaspoon Worcestershire sauce
1/2 teaspoon salt
1 cup water
6 hamburger buns for serving
Instructions
In a skillet cook ground beef and onion until beef is browned and onion is tender. Drain off any fat.
Add garlic and cook 30 seconds.
Add remaining ingredients, except buns, and stir well.
Cook on low for 20 minutes, stirring occasionally.
Serve over buns.
Notes
For gluten-free version serve on gluten-free buns, bread, or rolls.
Nutrition Information:
Yield:
6
Serving Size:
1
Amount Per Serving:
Calories:

422
Total Fat:

16g
Saturated Fat:

6g
Trans Fat:

0g
Unsaturated Fat:

7g
Cholesterol:

101mg
Sodium:

510mg
Carbohydrates:

31g
Fiber:

2g
Sugar:

10g
Protein:

38g
Nutritional values are approximate and aren't always accurate.