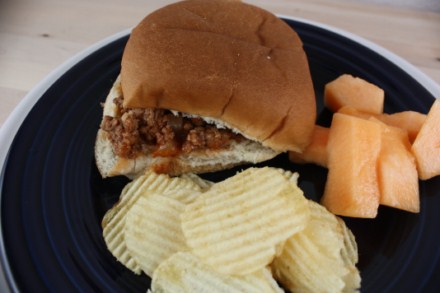 Sloppy Joes are one of those great, quick, and easy comfort food type recipes.
For a long time I stayed away from making sloppy joes because my impression of sloppy joes was the kind I had seen so many people make. You know the version that is just opening the famous can, heating it, and serving it over a bun. I had no desire to eat or make anything like that famous version.
I finally gave in though a few years ago and decided to give homemade sloppy joes a try.
Once I tried the homemade version I was wondering what took me so long? I wish I had tried them long before I did. Homemade sloppy joes taste nothing like the canned version, they are so much better.
Not only are sloppy joes really easy and tasty, they make a perfect freezer meal. I usually double or triple my recipe and freeze it in ziplock bags. Then when I am ready to serve it, all I have to do is defrost, heat, and serve it over a bun.
We also like to eat this over potatoes. This enables me to serve the same meal twice, without it being exactly the same.
Do you like sloppy joes? If so what is your favorite kind to eat canned or homemade?

Sloppy Joes
1 medium onion, chopped finely
2 cloves garlic, minced
2 pounds lean ground beef
3 tablespoons brown sugar
3 tablespoons Worcestershire sauce
2 – 8 ounce cans tomato sauce
1 cup beef or chicken broth
a few dashes of hot pepper sauce
salt and pepper (to taste)
hamburger buns
Brown ground beef with onion until onion is tender and beef is cooked.
Add garlic and cook for approximately one more minute.
Add remaining ingredients (except buns)and stir well.
Bring to a boil and then reduce to a simmer and cook for 15 minutes, stirring occasionally.
Serve over buns and enjoy.