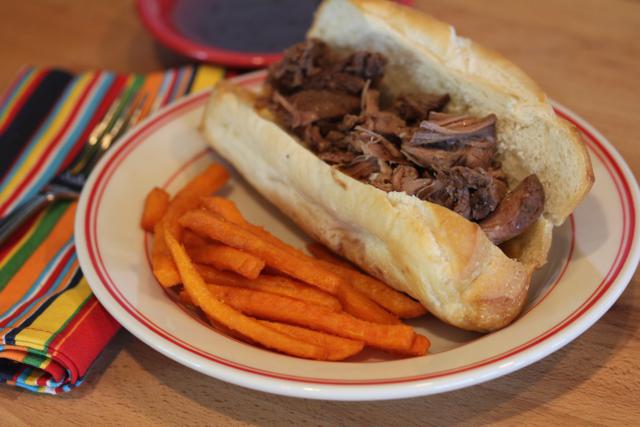 I hope you all had a nice holiday weekend and were able to spend some time with family and friends. I enjoyed a nice break and spent most of the weekend offline.
I posted my menu plans on Saturday and shared a few pictures on Facebook and Instagram, but besides that I disconnected for most of the weekend and it was just what I needed.
Today for Slow Cooker Monday I am sharing a simple slow cooked roast beef sandwich that is full of flavor. The meat filling for this can actually be eaten alone, but we loved it served as sandwiches. I love serving sandwiches during the summer because they are simple and more a light meal than we often have in cooler weather.
I served this with sweet potato fries, recipe coming soon for those, but you could easily serve this with a nice side salad or melon during the summer.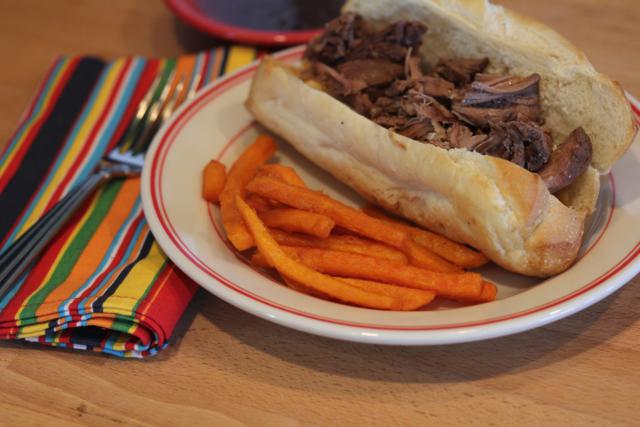 Slow Cooked Roast Beef Sandwiches with easy Au Jus
3-4 lb beef chuck or rump roast

1 package onion soup mix or use homemade onion soup mix

2 teaspoons sugar

1 teaspoon oregano

1 clove minced garlic

1 can beef broth

12 ounce of beer- I used a gluten free beer 

Rolls or Buns for serving
Place roast in slow cooker.

Combine remaining ingredients and pour over roast.

Cook on low for 7-8 hours or until meat is tender and shreds easily.

Remove meat from slow cooker and shred meat.

Pour some cooking liquid on top of meat. Just enough to moisten it, but not overly wet.

Serve on buns and use some of the liquid for the Au Jus/dipping sauce. 
Serve each sandwich with a small bowl of cooking liquid to dip sandwich in.