Today's recipe for Slow Cooker Monday is one of those why did I not try this before recipes.
A few weeks ago I had some corn that I got on sale that I needed to use up, but I had a busy day and knew I would not have much time around dinner to cook it. So, I decided to give it a try in the crock pot and I am so glad I did.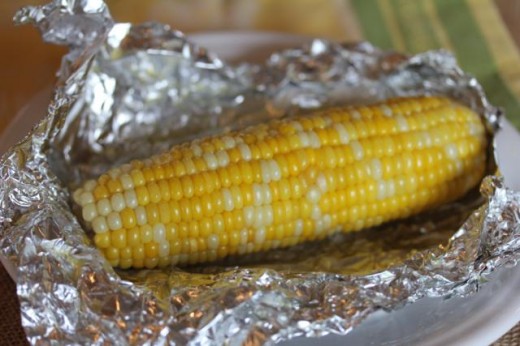 This was so easy and worked great making it ahead of time. At dinner time all I had to do was take it out of the crock pot and serve it. It was a simple and delicious side dish.
All I did for this was to shuck the corn, spread butter all over it, sprinkle some salt on it, wrap it in foil, and put it in the crock pot. I let it cook for a few hours and it was perfectly done at dinnertime.
I love this for busy days, but I also think it would work well for serving company or a crowd. You could easily get this ready early in the day. Then turn on the crock pot a few hours before dinner and the corn will be perfect at dinnertime.
Perfect for summer!
Slow Cooked Corn on the Cob
corn on the cob, shucked and clean

butter

salt

foil
Spread butter on corn and sprinkle with salt.

Wrap each cob in foil.

Place in slow cooker and cook on low for 2 -3 hours. This will depend on the crock pot and how full you fill it. I cooked 8 ears in about 2 1/2 hours. 

Serve and enjoy!