Slow Cooker Butternut Squash and Bacon Soup contains only a few ingredients, but is full of flavor! This soup is perfect for fall and winter.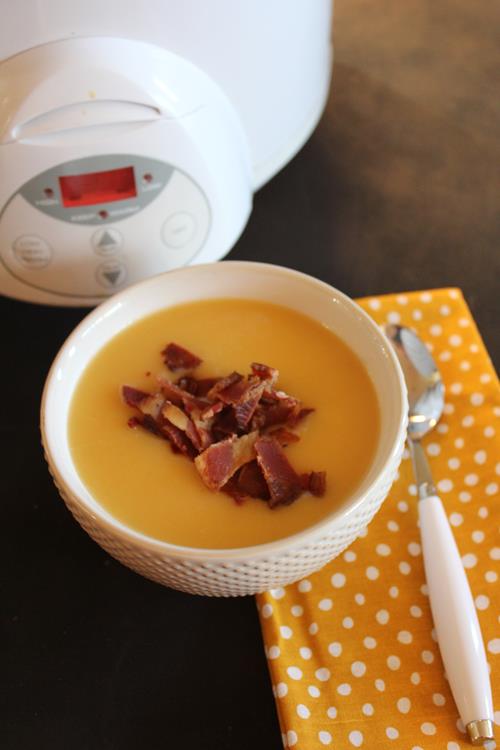 This simple slow cooked soup might be my new favorite soup, especially for fall! I love the flavor of the squash and bacon together.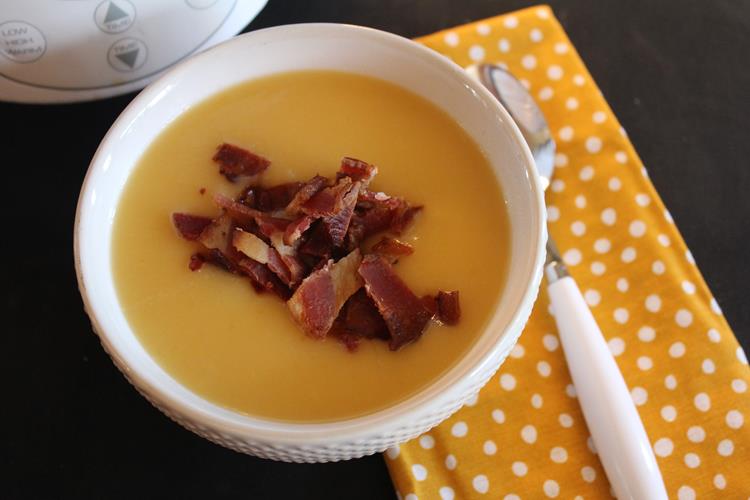 This soup is delicious served as a main dish. But I think it also makes a great side dish.
For this soup I used one of my new favorite Costco finds.
I know it is more expensive to buy it this way, but it makes it so much easier. This way I can just dump it in the crock pot and go. No cutting, peeling, or cubing required. All the work is done.
I know that many of you don't have a Costco, but I think other places sell it like this as well. Frozen butternut squash would also work. Or feel free to peel, cut, and cube it yourself. You need about 2 lbs, so feel free to get it however you find easiest.
This soup was also delicious leftover for lunch. It was a little thicker served the next day, but was still delicious! Both my husband and I enjoyed it leftover.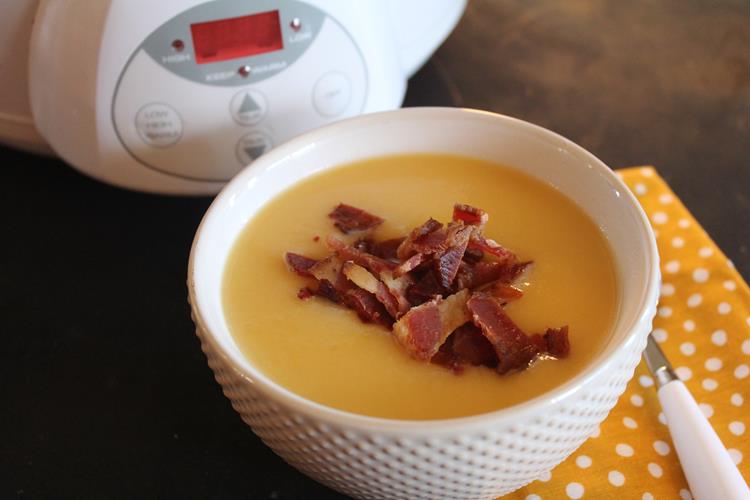 Slow Cooker Butternut Squash and Bacon Soup
3 large potatoes, peeled and cut into 1/2-inch cubes (about 2 lbs)
2 pounds (or about 2 lbs) butternut squash, peeled and cubed
1 large onion, chopped
42 ounces chicken broth (5 1/4 cups)
2 tablespoons butter
1 1/4 teaspoons fresh ground pepper
1 cup milk
1 1/2 cups shredded cheddar cheese
6 slices bacon, cooked and cut into pieces
Combine first 6 ingredients in a 5-quart slow-cooker.
Cover and cook on high for six hours, or low for 8-10 hours–or, cook until potatoes and squash are tender.
Stir in milk.
Puree soup in a blender or use an immersion blender (be careful putting hot liquids in your blender, you may want to cool it slightly before blending)
Return to slow cooker and add cheese and bacon. Stir until cheese is melted.
Serve and enjoy!