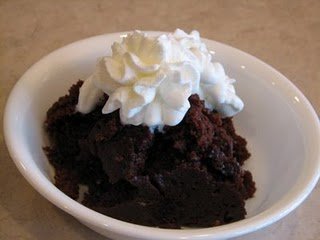 Sandra and I were thinking the same thing this week. Chocolate! For her version see Slow Cooker Thursday.
I have tried several crock pot cakes. This one is the best one I have tried. My kids loved it. It is a combination of cake and pudding mixed together. I served it with whipping cream but ice cream would also be really good with it. It was best the first day. The second day I microwaved it and it was good but definitely better the first day.
Slow Cooker Pudding Cake
1 package chocolate cake mix ( I used a home made cake mix and it worked great)
1 package (3.9 ounces) instant chocolate pudding mix
2 cups (16 ounces) sour cream
4 eggs
1 cup water
3/4 cup vegetable oil
1 cup (6 ounces) semisweet chocolate chips
Whipped cream or ice cream, optional
In a mixing bowl, combine the first six ingredients. beat on medium speed for 2 minutes. Stir in chocolate chips. Pour into a 5-qt. slow cooker that has been coated with cooking spray. Cover and cook on low for 4-5 hours or until a toothpick inserted near the center comes out the moist crumbs. Serve in bowls with whipped cream or ice cream if desired. Yield: 10-12 servings.
Adapted from Quick Cooking